Same Day Music is an
authorized Mighty Bright dealer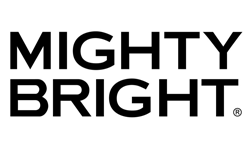 Streamlined and sophisticated, the Mighty Bright LUX Dome Task Light is functional, eco-friendly, and embodies a simple aesthetic elegance, compromising neither form nor function. With a variety of colors to choose from, the LUX Dome complements any decor. Its solid construction and metal components are durable and long-lasting, as are the LEDs that cast brilliant white light. The LUX Dome fits beautifully in homes, school dorms, luxury hotels, workshops, and corporate offices.
Features
- Simple, classic, timeless design
- 360-degree swivel head
- Bright, efficient LEDs produce 250 lumens
- Estimated 50,000 hours of continuous life
- Pleasant 4000 Kelvin white light
- Robust construction--built to last
- Flicker-free
- Solid-steel body
- Light area: 36" diameter
Same Day Music is an authorized dealer of
Mighty Bright
products.