Same Day Music is an
authorized Morley dealer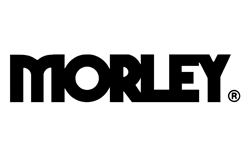 The Volume Plus was developed from many of the user requests Morley received for a switchable Minimum Volume control. The Minimum Volume control allows users to use the volume pedals for either a Lead/Rhythm pedal or a standard Volume control pedals. Some found it inconvenient to have to turn down the Min Vol knob and then have to reset it when using either function. Now, the Minimum Volume feature is foot switchable so it can easily be used as Lead/Rhythm pedal or Volume pedal.
Features:
- Switchable Minimum Volume control. Use as a standard volume or rhythm/lead pedal.
- Electro/Optical volume pedal is consistent and studio quiet (no pots to wear out).
- Audio taper allows smooth volume control or violin type swells.
- Minimum Volume knob is used for a smooth transition between rhythm and lead modes.
- LED indicator lights.
- Easy access battery compartment.
- Two-year manufacturer's warranty.
- Works with guitar, bass, keyboard or any other instrument you need to control volume on.
Same Day Music is an authorized dealer of
Morley
products.
Dimensions (WxHxD): 5.88 x 2.75 x 9.13 in.
Same Day Music is an authorized dealer of
Morley
products.
Shipping Weights and Dimensions

Shipping Weight: 8 lbs
Shipping Dimensions: 11 x 7 x 3 in