Same Day Music is an
authorized MakeMusic dealer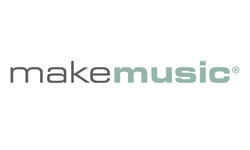 MakeMusic SongWriter lets you enter notes with a mouse or your MIDI keyboard and print great-looking sheet music. Explore musical options with tools like Drum Groove and Band-in-a-Box Auto-Harmonizing, and hear your music play with hundreds of built-in sounds and a powerful mixer. Plus you can share your music with the free downloadable Finale NotePad, and save iPod-ready .MP3 files.
From the creators of Finale, the world's leading music notation software, SongWriter is perfect for songwriters, teachers, band and choir directors, church musicians, students, and other musicians.
Still using a pencil?
What happens when you decide to change the key?
When you notate your music by hand, changing the key or adding an intro means starting over. When your music is in SongWriter it's easy to change keys, add measures, and move things around any way your creative impulses move you.
What's more, you can listen to the results - before the rehearsal. When you can hear what you've written you can quickly refine your music to sound exactly the way you want.
SongWriter does the heavy lifting, like managing how each staff plays back and transposes, so you don't have to. Simply select the instruments you wish to write for and get started!
Should you ever have a question, SongWriter includes QuickStart Videos and other resources, right in the Launch Window.
Capture ideas
Don't let great ideas get away!
When inspiration strikes, you want to notate it quickly
Simply play your MIDI keyboard and music automatically appears in SongWriter: It's miraculous to watch - and just one of many ways you can create. Prefer to enter notes with your computer keyboard or mouse? No problem!
Work with collaborators?
SongWriter can help here too, even if your partners use different software. SongWriter can open files made by the entire family of Finale software as well as import MIDI and MusicXML files created by hundreds of other products.
Don't let that melody slip away. Save it today with SongWriter.
Breathe life into sheet music
Professional instrument sounds, realistic playback, and creative inspiration.
Hear your notes as you enter them, then press Play to hear how they interact. This instant feedback empowers you to quickly shape the music of your imagination.
But SongWriter does more than make sounds. SongWriter makes music - and even offers creative suggestions.
Human Playback and high-quality software instrument sounds
Your music deserves to be heard with all the feeling and phrasing you imagined when you wrote it. Human Playback makes this possible by playing your music with the nuance and expression of human performers. When Human Playback is combined with the high-quality software instrument sounds built into SongWriter, the results are amazing.
Creative input
Need help harmonizing your melody? Not sure what the drummer should play? No problem.
SongWriter offers composers and arrangers idea-generating tools to save time and suggest creative options. Band-in-a-Box Auto-Harmonizing can automatically turn your melody into two- or three-voice harmony. Use Drum Groove to easily add custom drum parts in a variety of styles.
Mixer
An integrated mixer lets you further shape the sonic space where your music lives. You control reverb, panning, balance, and more.
Look professional
Appearances do matter.
When your music looks professional, it's not only easier to read, it instills greater confidence.
SongWriter gives you the power to make your music look professional. You can add lyrics, chord symbols, repeats, codas, and a wide variety of musical markings - and they all look stunning.
Guitar
Writing for guitar doesn't end with chord symbols. You can also choose to display crisp fretboard diagrams. Creating tablature, for guitar or bass, is simple and easy too.
Percussion
When you enter a note on a percussion staff, SongWriter provides on-screen feedback indicating whether you're about to en
Same Day Music is an authorized dealer of
MakeMusic
products.
Finale SongWriter for Windows
-- XP/Vista/Windows 7 (64-bit compatible)
-- 800X600 minimum monitor resolution
-- CD ROM drive or Internet connection (for installation)
-- Minimum 512MB RAM recommended
-- 240 MB hard drive space required for software and user manual
Finale SongWriter for Macintosh
-- G4 or higher recommended.
-- OS X 10.5-10.7 (Mac-Intel or Power PC)
-- 800X600 minimum monitor resolution
-- CD ROM drive or Internet connection (for installation)
-- Minimum 512MB RAM recommended
-- 226 MB hard drive space required for software and user manual
Optional
--MIDI interface
-- MIDI input and/or playback device
-- Printer
Authorization
-- SongWriter requires that you authorize the software within 30 days after installation. You are allowed to install SongWriter on one operating system. More.
File Compatibility
-- Finale family software can open files in the same or newer software version, but files created in a newer version cannot be opened in an older version unless converted via MusicXML. More.
Same Day Music is an authorized dealer of
MakeMusic
products.