Same Day Music is an
authorized Monster Cable dealer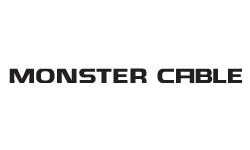 Whether you're plugging into a preamp, input unit or sound card, you need a connection that transfers digital audio information with maximum speed, bandwidth and the least interference possible. With specifications that exceed USB 2.0 standards, Monster Digital Pro USB Cable performance excels. Advanced design and construction maintain proper impedance to reduce jitter, resulting in better focus, clarity and extended dynamic range. Superior shielding helps reduce noise, 24k gold contact connectors maximize data transfer and large gauge conductors deliver maximum power, especially for hub-powered devices like audio input units. For superior reliability, performance and sound, choose Monster Digital Pro USB Cable.
24k Gold Contacts and Connector Shell
Maximizes signal transferand corrosion resistance Protective HexMesh Jacket Durable jacketing is flexible for easy routing and installation. Resistant to temperature extremes, snagging and tearing
Advanced SingleHelix Windings
Deliver 500MHz bandwidth, (five times the minimum USB requirement) andup to 480 Mbps for fast data transfer Large Gauge, Power Conductor For maximum power transfer to USB devices Heavy-Density Triple Layer Shielding Rejects RF and EM interference for most reliable data transfer.
Features:
- Precision 24k gold contacts and connector shell maximize signal integrity.
- SingleHelix construction delivers increased 500 MHz bandwidth, five times the minimum USB requirement.
- Larger gauge power conductor for maximum, low-loss power transfer to self powered USB devices.
- High density triple layer shielding rejects noise for the most accurate data transfer.
- Laser-controlled USB Extruder ensures cable delivers fastest data transfer above 400 Mbps.
Same Day Music is an authorized dealer of
Monster Cable
products.