Same Day Music is an
authorized Monster Cable dealer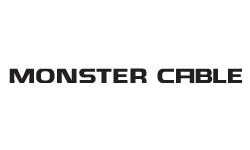 Attention sound engineers, DJs, musicians, and hard core music lovers: Beats Pro is the reference headphone designed by audio professionals for audio professionals. Particularly, those who prefer a clean yet forceful sound. Built from strong yet lightweight aluminum for rugged use on-the-go, flip up ear cups let you monitor the room without taking Beats Pro off your head. And dual input/output cable ports enable you to share mixes by daisy-chaining headphones.
Deep Bass Response and Clean Sound Across the Spectrum
Beats Pro uses no amplification or noise cancellation circuitry that adds other frequencies and colors the sound, so you hear the bass, with no compromises.
Proprietary Driver Technology and Materials for Pro-Caliber Sound
Delivers the even frequency response of studio monitors for accurate recording, mixing, and playback.
Superior Sound Isolation
Increased ear cup foam density and precise fitting shut out external noise for extraordinary accuracy, extreme clarity, and hard driving bass.
Patent-Pending Dual Input/Output Cable Ports
Plug your headphone cable into one earcup and the other port automatically switches to output mode, so others can hear your mix in their cans.
Unique Flip-up Ear Cups
Backward rotating ear cups make it easy to monitor the room, studio or club, or hear others, with Beats Pro on your head at all times.
Plush and washable ear cushions
Yields superior sound isolation with maximum comfort and minimal ear fatigue. Removable and washable because you want the beats funky, not your headphones.
Threaded 1/4-inch Adaptor with Tether
Heavy duty, gold plated 1/4-inch adaptor ensures you're ready for any setup. Attached tether prevents it from being left behind at your last gig.
Features
- Monster Cable headphone cable (1.8 meters with a coil that extends it to 2.1 meters)
- 1/8 to 1/4 inch adapter
- Touring case
- Monster Clean Cloth with advanced Aegis Microbe Shield technology
-1 year warranty
Same Day Music is an authorized dealer of
Monster Cable
products.