Same Day Music is an
authorized Monster Cable dealer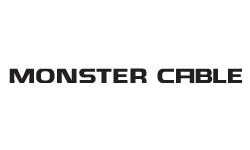 Monster Cable StudioLink balanced interconnect cables are an easy way to upgrade the sound quality of your entire studio. This high-performance audio interconnect cable is designed for use in a wide variety of home and professional performance and studio applications. Its high and low frequency multi-gauge wire networks preserve the clarity and presence between connected components. Patented Time Correct windings provide precise imaging, tight bass and smooth highs.
Features:
- Multiple-gauge high- and low-frequency wire networks for accurate, natural sound reproduction
- Precision-wound Time Correct construction provides extremely accurate musical reproduction
- Open soundstage, precise imaging, tight bass and smooth highs
- Ultra-flexible, durable jacket for ease of use and prolonged life, even in the tightest situations
The Final Link
Monster Cable's legendary microphone and musical instrument cables, found in many of the world's top recording studios, are used religiously by engineers, producers and musicians alike. In fact, Monster's cables are acknowledged as the reference standard for some of today's hottest artists.
These professionals recognize that the quality and sound of their cables play a crucial role in delivering the very best possible sound reduction. And in the highly competitive world of music, Monster gives the artist and recording engineer that extra edge to turn an ordinary performance into something extraordinary.
Engineered for Better Sound
While other cables can smother sound, increase distortion and flatten bass, link cables utilize unique patented technologies such as multi-gauge Bandwidth Balanced wire networks and Time Correct windings to transfer complex music signals between components with greater accuracy and per phase alignment.
Monster's MicroFiber dielectric employs an intricate way of winding an air-core fiber around each individual conductor to reduce dielectric losses and electromagnetic distortions. MicroFiber increases dynamic range, extending high frequencies and reducing background noise.
In addition, Monster's MultiTwist construction, ultra-dense shielding and conductive polymer dielectrics are used to eliminate hum, interference and handling noise.
Wider frequency response and more natural reduction of harmonics are just some of the improvements musicians discover with Monster Cable link microphone and studio interconnect cables.
A Complete Hook-up
In addition to Monster Cables' outstanding mic and instrument cables, the link line features high performance snakes, patchbay cables and speaker cables, as well as line-level audio, video and digital interconnects for every possible hook-up.
Monster recognizes the importance of a high integrity, long lasting connection. Their connectors are designed for maximum signal transfer and the ability to withstand and the rigors of stage and studio environments. Monster's link cables deliver sonic refinements to improve the quality of every note you play, every track you lay down, and every recording you monitor.
Plug in and listen. You can hear the difference with Monster Cable.
Same Day Music is an authorized dealer of
Monster Cable
products.