Same Day Music is an
authorized Monster Cable dealer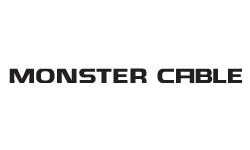 The Monster Cable Performer 500 Microphone Cable is a high performance microphone cable that delivers the natural sound of vocals and rich, vibrant harmonics of miked instruments. If you want your performance to really stand out, you need the right microphone cable to help you cut through the mix & the crowd. Performer P500 with patented Monster technologies bring out the wide open sound, the richness in vocals and the vibrant harmonic overtones of any miked instrument. An extra-dense shield reduces interference and hum, and heavy-duty Neutrik XLR connectors with gold-plated contacts and strain relief ensure a strong, reliable, high integrity connection. Grab a Monster Cable Performer 500 Microphone Cable today and let 'em hear you shine.
An excellent quality microphone cable with clear, dynamic sound for recording and professional performance applications on a budget. This high resolution bandwidth balanced microphone cable includes 2 Time Correct multiple gauge wire networks for an even frequency response and accurate phase reproduction. A Microfiber dielectric increases clarity and transient response time, while a high density braided shield reduces interference and carbon polymer shielding around conductors minimizes handling noise. A Duraflex jacket offers maximum flexibility and durability and heavy-duty black Neutrik XLR connectors provide durability and a professional appearance.
Time Correct
The problems that occur in audio cables are electromagnetic in nature and are difficult to measure by conventional test methods. However, they are very audible. As you send your favorite piece of music through a speaker cable, its complex harmonic structure becomes separated, delayed, and smeared because of the varying intensities of the magnetic fields that are generated. This causes frequency and phase (time) distortions that inhibit accurate music reproduction regardless of how good the rest of your system is.
Monster Time Correct winding technology controls these magnetic fields and time aligns the musical signals so they all travel coherently through the cable. The sonic improvements from Monster technology have even convinced the skeptics and have redefined the way people think about wire.
Balanced Bandwidth Design
This technology combines Time Correct windings with the use of selected multiple-gauged constructions to pass the music in correct amplitude and phase. Monster's balanced design interconnect cables use equal conductors for the positive and negative conductors with a passive "ground" shield. The positive signal must be identical to the negative signal, electrically and magnetically, otherwise there will be an imbalance, causing a resultant signal that is a distortion of the original waveform. That is why coaxial cables, commonly used in low cost interconnects (and some high-priced ones also), cannot be correctly time compensated and will always be inaccurate.
The results of distortions in wire are audible because in the analog world, what is directly heard is the electrical signals transferred to vibrations in the air. These vibrations reach the eardrums, which send the signals to the brain, where they are interpreted as music. Any distortions in this chain are correctly and accurately detected in the ability to hear variations in frequency and time, which relates to perceptions of music, harmonic overtones, directionality, dimensionality, and space. Monster's Bandwidth Balanced constructions overcome most of these distortions (no wire is perfect) in a way that no other cable can. It's obvious that regardless of the purity of the material used (they have evaluated all the various LCOFC, OCC, six 9's copper, etc.), one must still overcome amplitude and time domain distortions to achieve accurate sound reproduction.
MicroFiber Dielectric
Since much of an audio signal passes through the magnetic field surrounding the conductor, the quality of dielectric plays an extremely important part in cable construction.
The dielectric affects a cable in 2 ways: the quality of insulation between the positive and negative conductor, and the isolation of the groupings of multiple strands (and in this case multiple gauges) of wire in the same conductor.
MicroFiber, which is Monster's patented design of wrapping a wire strand (or group of wire strands) with a dielectric comprised of 30% air (the best dielectric of all except for a vacuum), has superior characteristics in the area of low energy storage and energy loss. Energy in this case meaning all the components of an audio signal in terms of its electrical, magnetic, electrostatic, and current transfer components.
MicroFiber is used in Monster's cables to isolate individual networks in the same conductor. The result is a music signal that is very fast in its transient and dynamics, which is important in today's music.
Listen to the difference between Interlink Reference 2 (with MicroFiber on the bass and mid bass networks, but not the high frequency networks) vs. the M1000 Mk III, which has MicroFiber on all 3-cable networks. The rest of the construction is virtually identical. The M1000 has all the detail and depth of the Interlink Reference 2, but with better control over the top end and less high frequency smear. Of course the cost of the M1000 is higher. Also audible is the difference between Monster's older Interlink 4 vs. Interlink 400. The only difference between the 2 is that Interlink 4 uses a varnish dielectric (as used in Litz wire) and the Interlink 400 uses MicroFiber.
A further test of MicroFiber is to listen to the increase in clarity and detail, as well as extended frequency response (because of the isolation between multiple-gauged conductors), between Interlink 400 and Interlink 401 (again, the only difference in the conductors is that Interlink 401 does not have MicroFiber).
Same Day Music is an authorized dealer of
Monster Cable
products.