Same Day Music is an
authorized Monster Cable dealer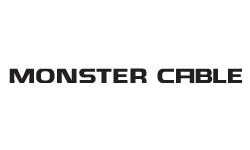 Now, Monster has created a true professional PowerCenter, combining advanced power line conditioning with high capacity surge and spike protection, that's within reach of any musician, studio owner, custom home theater installer, and enthusiast. The PowerCenter PRO 900 reflects Monster's commitment to creating performance-enhancing power solutions for music Professionals that everyone can benefit from.
More Than a Surge Protector
Protecting your equipment is mandatory, but PowerCenter PRO 900 does much more than prevent catastrophe. Patented Monster Clean Power filter circuitry virtually stops most electrical line noise that goes right through ordinary surge protectors. Providing the most basic, though effective level of Monster Clean Power, a single overall filter rejects noise on the AC power line that can detract from performance in audio equipment, allowing all of the rich harmonics and tone to come through in your performance. PowerCenter 900 was designed to help you achieve the best possible sound by keeping harmful interference out of your equipment's AC power supply.
Dual Mode Plus(tm)
Metal Oxide Varistors (MOVs) by themselves, as found in many other products, are not enough to protect your equipment. Unlike ordinary surge protectors, the PRO 900 features exclusive Dual Mode Plus protection circuitry to automatically disconnect all of your connected equipment if your electric line is hit by a big surge (such as from nearby lightening). While some other surge protectors leave equipment connected and vulnerable after such a hit, the PRO 900 disconnects them. And if your system takes a hit, dual indicators with lights and an audible alarm will tell you that Monster Power has protected your system from damage.
Get All the Performance You Paid For(tm)
Convenience is vital, too-which is why PRO 900 also features component-assigned color-coding with matching power cord labels for easy identification (especially useful if you have to set up and break down a lot!). It's also rack-mountable for easy integration into custom installed rack-mount systems.
For complete surge protection, power conditioning and hook-up convenience, choose Monster Professional PowerCenter PRO 900 to protect your valuable pro audio or home theater system while helping it achieve the best possible sound.
Same Day Music is an authorized dealer of
Monster Cable
products.
Monster Clean Power(TM) Stage 1 filtering for high quality sound.
Dual-Mode Plus protection and audible alarm for maximum protection and performance.
AC power turn-on and turn-off for equipment and overload protection.
Dimensions: 1 3/4 H x 17 1/4 W x 5 1/4 D; weight: 3.9 lbs.
8 switched outlets for power hungry equipment are color-coded for error free connections.
Same Day Music is an authorized dealer of
Monster Cable
products.