Moog Music Little Phatty Stage Edition Analog Synth Product Description
Same Day Music is an
authorized Moog Music dealer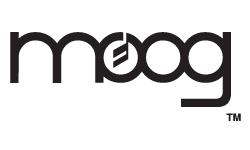 Like the Tribute Edition before it, the Little Phatty Stage Edition has the same features and sound engine, designed by Moog founder and inventor, Bob Moog, and also boasts improved software and a unique auto-calibration feature. And for those excited about the lower cost Tribute, the new Stage model tantalizes even further with a lower sell price.
Moog continues to innovate and fuse uncompromising sound quality and craftsmanship with new technology. The Little Phatty Stage Edition puts the performer in control of a 100% analog signal path with Real Analog Control (RACTM), 2 ultra stable Voltage Controlled Oscillators and one Voltage Controlled Filter among other versatile features like CV inputs, KB gate and a full MIDI controller.
"The Little Phatty not only has it's signature killer and limitless sounds, but the ability to use it's innovative interface as a versatile general MIDI controller make it an incredible tool for both performance and the studio."
-Cyril Lance, Sr. Design Engineer
The Stage Edition has updated software, which includes auto calibration and an auto tune function that ensures the instrument is tuned perfectly whether it's in a cool studio or under hot stage lighting. The Stage also includes an asymmetric pitch wheel, 21 assignable MIDI controllers, as well as arbitrary pot mapping.
The Little Phatty is aesthetically pleasing both aurally and visually. A striking design makes it one of the coolest looking synths on the planet. The Stage Edition departs from a traditional wood cabinet and is cradled instead by sleek, charcoal-colored rubberized side panels.
Hand-built quality and that unmatched Moog sound, at a price every musician can afford, Little Phatty was designed with portability, expressive and intuitive playability, and the timeless quality only found in a Moog.
The Little Phatty boasts a 100 percent analog signal path, 100 user editable presets and a 37-note keyboard with +/-2 Octave Transpose.
RAC Real Analog Control is a proprietary technology enabling the performer to directly interface with the analog circuitry via the knobs on the control panel, without any digital processing.
From studio to stage, the Little Phatty is a musician's dream. Moog's innovative engineering and tried-and-true manufacturing mean you can have the sound you want at a price that's well within reach.
Features:
2 Ultra-stable oscillators
1 Low pass filter (classic Moog ladder filter)
4-Stage analog envelope generators
100% all analog signal path
Sound engine from Bob Moog
Low price
Designed for performance
Looks cool
Same Day Music is an authorized dealer of
Moog Music
products.
Moog Little Phatty Stage Edition Technical Description
The Little Phatty is a monophonic analog synthesizer, with 100 user editable presets.
Synth Engine:
Sound Sources are 2 ultra-stable analog VCOs. Parameters for the VCOs are:
-- Osc. 1 Octave: 16', 8', 4', 2'
-- Osc. 1 Wave: Continuously variable from triangle through saw and square to skinny pulse.
-- Osc. 1 Level
-- Glide Rate
-- Osc. 1 & 2 Sync On/Off
-- Osc. 2 Frequency
-- Osc. 2 Octave: 16', 8', 4', 2'
-- Osc. 2 Wave: Continuously variable from triangle through saw and square to skinny pulse.
-- Osc. 2 Level
-- Fine Tune (for both Oscillators, located at the bottom left of the panel)
Sound Modifiers include a single VCLPF: 24 dB /Oct Moog Ladder filter, with filter Overload control and a single Output VCA.
Filter parameters are:
-- Cutoff
-- Resonance
-- Kb. Control Amount (how much the Key CV modulates the Filter)
-- Filter Env. Amount (how much +/- the filter envelope modulates the filter)
-- Overload
An Envelope Generator section provides two ADSR EGRs: one to modulate the Filter (Filter EGR) and one to modulate the VCA (Volume EGR).
For each EGR, the parameters are:
-- Attack
-- Decay
-- Sustain
-- Release
The Modulation section contains a 4-waveform LFO, and a 1x1 Mod Buss with 6 possible mod sources and 4 possible destinations.
Its parameters are:
-- LFO Rate
-- Mod Source: (LFO triangle, LFO square, LFO sawtooth, LFO ramp, Filt. EGR, and Osc. 2
-- Mod Amount (the amount of modulation w/ the mod wheel all the way forward)
-- Mod Destination (Pitch, Osc. 2, Filter, Wave)
The User Iinterface (UI) section is described in the UI spec, below the LCD and UI controls are the following:
Performance controls:
-- 37-note keyboard
-- Spring-loaded pitch wheel
-- Mod Wheel
-- Glide On/Off
-- Octave Down
-- Octave Up
To the right of the front panel is the Output section. There is a Master Volume control, an Output On/Off switch, a Headphone Volume control, and a headphone output jack (1/4 in. TRS)The side of the instrument houses the I/O of the instrument.
AC In (100-250VAC, 50-60 Hz)
Power On/Off
Audio Out
Ext. Audio In (accepts +4dBu line level signal)
Pitch CV In (1 V/Oct)
Filter CV In
Volume CV In
Keyboard Gate In
MIDI In
MIDI Out
Dimensions and Weight
26.75 in. X 14.75 in. X 6.75 in.
22 lbs
Basic Editing of sounds
Sound editing of continuous parameters (like Filter Cutoff) is done from the front panel by enabling a parameter with its switch (its LED becomes illuminated), and then adjusting its value control. There are 4 value controls, one for each section: Modulation, Oscillators, Filter, and Envelopes. Each is surrounded by a ring of 15 LEDs that show approximately the stored or edited value of the current parameter. The value controls are analog, and when a parameter is activated, the analog control signal is switched to directly control that parameter (RAC or Real Analog Control). For each section, only one continuous parameter can be activated at a time for editing. For parameters that have multiple possibilities (such as Mod Source) pressing that switch advances through the possible Mod sources. For On/Off type switches like Osc. Sync, the LEDs are On when that parameter is on or Off when the parameter is off.
Same Day Music is an authorized dealer of
Moog Music
products.
Moog Music Little Phatty Stage Edition Analog Synth Catalog Description
Little analog synth with a fat sound@Analog signal path with digital control@Monophonic synth with 2 oscillators, 1 low-pass filter, 2 ADSR envelope generators, and modulation section with 4-waveform LFO@Pitch and mod wheels; 37-note keyboard@External audio input, MIDI I/O, plus CV I/O
Same Day Music is an authorized dealer of
Moog Music
products.