Same Day Music is an
authorized Muse Research dealer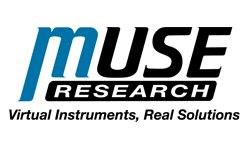 One instrument, two rack spaces, millions of sounds, infinite possibilities.
That's the Muse Research Receptor -- a unique and versatile musical instrument that takes the best software-based synthesizers and effects processors available, and turns them into real instruments. With the push of a button, Receptor can transform itself from a sampler into a guitar processor; from a drum module into a synthesizer; or from a delicate mastering tool into a screaming drawbar organ.
Plugin software has completely changed the way music is made. Puny samples crammed into tiny chips are a thing of the past. Fixed architecture synths, by their very nature, are forever incapable of adapting to an ever-shifting sonic landscape. In today's musical world, virtual instruments reign supreme. But using plugin software can be an exasperating experience. Stability concerns and high latencies limit their effectiveness on stage, and high CPU demands limit their flexibility in the studio.
Receptor solves these problems by combining everything that's good about plugins with everything that's good about hardware.
The standard Receptor includes 256 Megabytes of RAM and a 160 Gigabyte Hard Drive; it also includes over $400 of free plug-ins that can be unlocked when you register the Receptor at Plugorama.
Receptor On Stage
With its lightning fast MIDI response, durability and stability, Receptor is truly optimized for live performance.
Whether syncing to MIDI beat clock, responding to MIDI performance controllers, or recalling complex patches with standard MIDI program change messages, Receptor integrates effortlessly into a live performance environment. And if your roadie kicks out the power cable, Receptor will reboot right back into its proper configuration within 5 seconds! Its flexible and intuitive architecture allows customers to create Receptor environments than can respond to patch changes instantaneously.
Receptor is robust and portable--hosting both today's and tomorrow's best plug-ins in an easy to use hardware environment. Receptor conforms to the performer's workflow, not the other way around. Do you want a dedicated, stand-alone visual editing and configuration environment? Simply plug a monitor, keyboard, and mouse directly into Receptor and configure it without using a computer. Is the computer the center of your musical universe? Then connect Receptor's Ethernet cable to your computer and graphically control it directly from your Mac or PC. Do you not want to bother with monitors and mice? Receptor is completely controllable from its own front panel using dedicated knobs and buttons.
Receptor in the Studio
With its whisper-quiet fan and cool, retro appearance, Receptor belies its true identity-a thoroughly modern, software-configurable module, designed to integrate completely and effortlessly into a network of computer-hosted digital audio workstations.
Receptor is designed for musicians. Its user interface follows a familiar mixer-analogy, allowing users to create patches containing as many 16 simultaneous stereo plugin instruments. Insert slots, two stereo send busses and the master buss all allow the possibility of adding a whopping 57 additional effects plugins to your sonic assault.
Muse Research is fully aware that the computer is the heart and soul of every modern recording studio, and they've designed Receptor to integrate completely with today's studios. Up to 10 Receptors can be connected to a single computer using gigabit Ethernet. All audio, MIDI, and graphical control information is then transferred between Receptor and your computer using only the Ethernet cable. This is called UniWireand it comes free with every Receptor.
By instantiating a UniWire plugin in your computer's sequencer, you can graphically control and edit your Receptor without ever taking your eyes off your sequencer! The UniWire plugin transmits all MIDI and audio data between Receptor and your sequencer over a single Ethernet cable. Each Receptor that you plug into your computer network becomes an extension of your existing recording environment-allowing unprecedented sound creation potential without taxing your host computer's CPU. And all this power is accessed exactly the way your workflow requires through a plugin running in your host computer.
Receptor PRO
Muse Research is proud to offer the Receptor PRO, the biggest, baddest Receptor ever with a whopping 750GB hard drive, a massive 2GB of optimized RAM, and the fastest 64-bit Turion processor available! Designed for composers, producers, and keyboardists who require instant access to the most popular massive sample libraries available, Receptor PRO packs a huge amount of music making muscle in to a portable package with a graphite grey front panel.
Receptor PRO has eight times more memory than a regular Receptor -- almost five times more hard disk space -- and a processor that is 33% faster than the base model, all while retaining the same stunningly low latency, super-quiet package design, and robust and portable package.
Same Day Music is an authorized dealer of
Muse Research
products.
For maximum performance, Muse Research uses only premium brand-name memory modules; 2GB configuration uses matched pairs. RAM specs: PC3200/DDR 400 Mhz - non-registered, non-buffered, non-ECC.
Premium Plug-ins included for FREE with every Receptor!
Dash Signature; Combo Sister, daAlfa2K, daHornet, EMM Knagalis, EVE
FXpansion; DR-005
LinPlug; RMIII
Ohm Force; Predatohm
PSPaudioware; PSP MixSaturator from the PSP MixPack
Freeware Plug-ins
- 4Front Technologies; Bass, E-Piano, Piano, Rhode
- AudioNerdz; Delay Lama
- Big Tick; Cheeze Machine, Dual Delay, Hexaline, Nasty Shaper, Ticky Clav
- Camel Audio; CamelCrusher
- DestroyFX; Buffer Override, EQ Sync, MIDI Gater, Geometer, Monomaker, RMS Buddy,
- Scrubby, Skidder
- Elogoxa; Cosmo Girl, The Devil Inside, JG-3
- EVM Synths; Microsynth
- FXpansion; Enigmatron, Mysteron
- Green Oak; Crystal
- GTG Synths; Drum Kid 4, Drawbar, E-Flex, Express 3, GTG 7, GTG Micro, Log Synth, MP5.1, PD Poly, Tranzister, Wave 2.1, Yuno
- Image-Line; DX10, E-Piano, Piano
- Kjaerhus Audio; Classic Chorus, Classic EQ, Classic Flanger, Classic Master Limiter, Classic Reverb, Classic Phaser
- Klang Labs; WNM-1 FX, WoW!, WoW ST
- LinPLug; Free Alpha
- mda; Bandisto, Combo, De-ess, Delay, Dither, DubDelay, Dynamics, Envelope, Image, Leslie, Limiter, Loudness, Multi-band, Overdrive, RePsycho!, RezFilter, RingMod, RoundPan, Splitter, Stereo, SubSynth, TestTone, ThruZero
- Nomad Factory; Nomad Free Bundle (Phaser, Sweeper, Tremolo)
- Odo Synths; A-Sine
- Ohm Force; Frohmage
- PQN Audio; Cooly, Mopar
- PSP Audioware; PianoVerb
- Psychic Modulation; Pandemonium
- reFX; Claw
- rgc:audio; Sfz, Triangle 1, Triangle II
- Rumpelrausch Tips; ZR3
- Smart Electronix; Bouncy, H20, MadShifta, s(M)exoscope, SupaPhaser, OnePingOnly
- Sonic Implants; SoundFont Bank for sfz
- Sound Burst; SoundFont Bank for sfz
- Steinberg; Karlette
- TobyBear; Cow Delay, Decimator, Morphone, RoboBear, SilverBox
- Ultimate Sound Bank; Plugsound Free
- Virtual Creations; UltraPhazer
- Wurr Audio; Little Green Amp , Little booster, Green Gate, Green Wah
- xoxos; Synger
Same Day Music is an authorized dealer of
Muse Research
products.