Same Day Music is an
authorized Notion Music dealer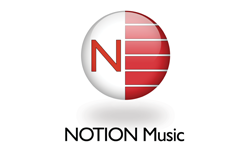 The Notion Strings 2 Expansion Kit for Notion 2 allows individual users to customize the sound library of their Notion software. Some kits simply provide additional playing techniques for existing instruments, while other kits add completely new instruments into the mix. These kits are manufactured separately so that you don't get stuck paying for sounds you'll never use. Currently, new kits are being released at intervals of every 1-2 months, so the Notion sound library is always growing.
Expanded Strings II - This kit expands on the new sounds and techniques introduced in Expanded Strings I for violin, viola, cello and bass sections. The new sounds include col legno, sul ponticello, bartok pizzicato, minor third tremolando, major third tremolando, perfect fourth tremolando, open string, and natural and artificial harmonics.
Features
Sounds of the London Symphony Orchestra, recorded at Abbey Road Studios
Click and drag notes
Note Audition
No longer requires iLok security
Write for up to 128 instruments in a single score
Over 1,000 voice polyphony
No external hardware or software needed
Expandable and customizable sound library
NTempo: real-time "conducting" of the score
MIDI import
MusicXML import and export
MIDI device entry, including step time, stretch time, and real time
Enter and edit up to 99 verses of lyrics
Automatic score layout and alignment
Instrument audio mixer: mute, solo, decay, pan, and balance
Export to WAV file
Shortcuts for every element - easily associated through mnemonics or visual appearance
33 level dynamic resolution from ppppp to fffff with intermediate degrees
Timbre sampling at all dynamics and in all ranges
Playback of custom key signatures, time signatures, quarter tones, and more
Authentic playback of performance techniques, expandable with the add-on sound kits
All orchestral Notion Music sounds were recorded at Abbey Road Studio I under the supervision of Recording Engineer Jonathan Allen. Electric bass and drum set sounds were recorded at Dark Horse Recording in Nashville, TN and guitar was recorded at Electric Lady Studios in New York, NY.
Same Day Music is an authorized dealer of
Notion Music
products.