Same Day Music is an
authorized Notion Music dealer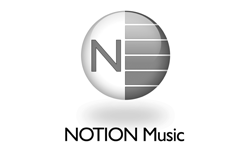 Notion 3 is the first product to bridge the gap between notation softare and an audio application -- allowing you to not only create and listen, but to perform live or produce music with stunning results. Notion 3 has an entirely new design, new sounds, and comes with more new features than we can list. Improved workflow, better sounds, enhanced live performance features, and incredible compatibility with plug-ins, sample libraries and DAWs was the goal -- and Notion 3 delivers.
Easy to look at; Easier to Use
sleek, intuitive interface and workflow allowing you to use notation, guitar tab, or MIDI devices to craft music of any style, be it orchestral, jazz, or rock. One brand new idea is the newly designed entry palette that can remain docked at the bottom of the screen or move to the cursor right-click of your mouse, a great design that can speed up the workflow of the user. The entire entry screen itself has had a big makeover. The way the score looks and how you can view it, the improved use of space, buttons and tools were designed to put the focus on the score itself. Writing for guitar or bass? An interactive fretboard for both guitar and bass is available, as well an interactive chord library.
Over 10GB of Improved and Enhanced Samples
- exclusively featuring the sounds of The London Symphony Orchestra recorded in great detail at Abbey Road Studio's. These sounds have become very popular within Notion...now they are even better! The new enhanced sounds use close mic's to really hear the essence of the instrument, and all of the new sounds are in stereo. Not only are they enhanced; there are more of them. Notion3 comes bundled with more sounds than any previous version of Notion. And for those who loved the sounds that were in legacy versions of Notion, they are included as well.
In addition to the incredible sounds by The London Symphony Orchestra you also get all the sounds that come with Notion Music's celebrated guitar software product Progression. These sounds feature electric and acoustic guitar by Neil Zaza, electric bass by Victor Wooten, drums by Roy "FutureMan" Wooten, along with upright acoustic bass, different keyboards including Clavinet and Fender Rhodes....all recorded at world-famous studios.
SequencerStaff(tm)
- a feature unique to Notion3. Record MIDI input on a standard notation staff while retaining all the MIDI data including modulations, bends and dynamics. Keep in SequencerStaff view or convert to notation instantly. This incredible new feature seems familiar and totally new all at the same time, because in a way, it is. Essentially the MIDI data is recorded directly on the instrument staff, all of the data can be seen...the duration, the range in pitch, dynamic information, etc... and all of it can be edited. This is a great way of getting a performance that was inputted using a MIDI device to be exactly as intended.
Professional Audio Mixer
- complete with buses, inserts, sends, multiple direct channel outs and VST effects, this mixer is unlike anything you have ever seen in a notation product. In Notion3, of course volume can be totally controlled by dynamic markings in the score. But for more detailed control, and for those who feel more at home with a mixer that resembles the ones seen in a DAW, Notion3's new mixer delivers a great tool for everyone. You can control and mix your entire score or group the mixer into instrument sections. Use the inserts to bring in effects and plug-in's, utilize the buses, the solo and mute options, and of course the incredible panning. This mixer gives you a closer look into how Notion3 is bridging the gap between notation software and an audio application.
Expanded Compatibility
- finally, a notation product with full ReWire integration that supports both host and slave options. Use ReWire to control other audio applications or have them control Notion. Use the NTempo feature to control playback in your DAW.. ton's of possibilities.
Built to be compatible with digital audio workstations, Notion3 effortlessly works with third-party VSTi libraries, and further integration has been achieved with Vienna Special Edition and Special Edition Plus, East West Quantum Leap Platinum, Miroslav Philharmonik, and Garritan Personal Orchestra. With these libraries Notion3 will recognize them at the score-setup stage. Simply select library and instruments for the score, combine multiple libraries if desired, start composing and instantly get playback of all sounds, expressions and articulations...no mapping needed.
In addition to VSTi compatibility Notion3 also works with VST effects and plug-ins. Notion3 comes bundled with IK Multimedia's AmpliTube X-Gear and CSR Hall Reverb, so right out of the box reverb and amps can be added to instruments in a score. But of course with Notion3's new enhanced compatibility other VST plug-ins can be used as well.
Also, take advantage of full MIDI functionality and the option of importing audio into a score as well as saving the score as an audio file.
Live Performance with NTempo
- the only notation product with advanced real-time tempo control that includes vamps, repeats, score navigation and other features allowing it to be used like a musical instrument with accompaniment, rehearsal, or professional live performances. Other products may say they do this, but how many of them have been on tour with some of the top musicals and performances in the world, performance after performance, night after night, with the user controlling entire orchestral scores along with real live players in front of sold out audiences? Notion was the first to have the NTempo feature and has taken it to all new levels. Not only can the user tap the speed of a score but also can get to the fraction of note level, giving the user the option of very focused rhythmic nuance. In NTempo mode Notion3 recognizes repeats and other musical symbols, and in addition the user can go in and out of vamps at any time, use the score navigation to look ahead, and so much more. Nothing performs a score live like Notion3 with NTempo... except a real musician.
Bundled with IK Multimedia's AmpliTube X-Gear and CSR Hall Reverb.
Same Day Music is an authorized dealer of
Notion Music
products.
System Requirements
Windows:
- XP/Vista/Windows 7 (64 bit compatible)
- Recommended: 2.0 GHz Core 2 / 2 GB RAM
- Minimum: 2.4 GHz Pentium 4 / 1 GB RAM
- Requires 16 GB Drive space; DVD Drive
Mac:
- OSX 10.4 or Higher (Compatible with Snow Leopard)
- Recommended: Intel Mac / 2 GB RAM
- Minimum: G5 PowerPC / 1 GB RAM
- Requires 16 GB Drive space; DVD Drive
Same Day Music is an authorized dealer of
Notion Music
products.