Same Day Music is an
authorized Odyssey dealer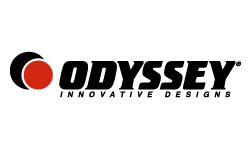 Odyssey's Black Krom cases are made to the same standards as the original Krom series, but with a twist: the hardware, including the aluminum trim, is coated in a sleek black finish. The steel corners are uniquely hexagon-shaped, complementing the unique angled edge extrusions, and each also features rubber feet for set stacking.
These DJ Controller cases are built with a fully foam-lined and carpeted interior, heavy-duty spring-loaded handle, and front latches with padlock loops. The KDJC3BL universal medium sized DJ controller carrying case securely fits popular controllers such as the Numark N4, NS6, and Pioneer DDJ-SR.
Black Krom cases are slick, stealthy, and beyond cool!
Features:
- All Black Exterior
- Lightweight Construction, Weighs Only 15 lbs.
- Removable Angled Controller Tray
- Rubber Feet for Stacking
- Hexagon Steel Ball Corners
- Unique Angled Edge Extrusion Design
- Fully Foam-lined and Carpeted Interior
- Heavy-Duty Spring-Loaded Carry Handle
- Recessed Front Latches with Padlock Loops
- Removable Lid with Adjustable Cushion Lid Interior
- Adhesive Hook & Loop Strap Included For Secure Controller Platform Placement
- Plenty of Space Under the Platform for Storing Cables and Other Compact Essentials
- Fits Controllers up to 23.75" Wide, 13.5" Length Front to Back, and 3" High
- Can Hold Securely: Numark iDJ Pro, Numark N4, Numark NS6, Numark NV, Pioneer DDJ-SR and more!
Same Day Music is an authorized dealer of
Odyssey
products.