Same Day Music is an
authorized Pearl dealer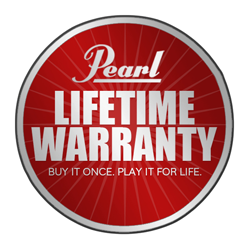 The Cajon was played for the first time in Peru, and was widely popular during the mid-1800's. The simplicity of this instrument tends to draw people from all ages and backgrounds, and as you progress it's fun to add elements to your playing. This is where the Pearl Cajon Drum 6 Piece Accessory Package comes into play. Percussionists may choose from a variety of different accessories that may not only help their play, but also protect their Cajons and Cajon accessories. The package contains the following cajon accessories: a cajon carrying bag, seat cushion, clave block, wood block, holster accessory holder and foot tambourine. These pieces make it possible for cajon users to add wrinkles to their playing for constant improvement.
Pearl PSC1213CJ Box Cajon Carry Bag:
The carrying bag delivers maximum protection and convenience in a durable soft bag. Whether you are going to a gig or just practice, protect your percussion instrument and carry them with ease and style.
Pearl PSCBC Box Cajon Seat Cushion:
The Pearl PSCBC Box Cajon Seat Cushion provides comfort for those long playing sessions. This black foam seat relieves back and leg aches, providing soft support to your cajon's wooden top. The Box Cajon Seat Cushion gives a much needed amenity to the cajon without effecting the tone or resonance. Complete your cajon set-up today with the Pearl Box Cajon Seat Cushion!
Pearl PBCW100 Cajon Wood Block with Dual Lock Tape:
The clave block will add a fun element to your playing style. This easy-to-attach accessory produces a sharp cutting sound and is easily attached to your cajon with 3M Dual Lock tape strips. Made of prized Shorea wood and featuring a spring actuated wooden beater, the clave block is played by striking the wooden beater with your hand against the fixed side of the block. Complement your set-up with the beautiful timbre of the Pearl Cajon Clave Block!
Pearl PBCW100 Cajon Wood Block:
The wood block is an attachable woodblock placed onto the side of any cajon. The wood block is played by simply striking the wooden beater-side with your hand against the fixed-side of the block, producing a beautiful wood block sound. The Cajon Wood Block comes with a 3/8 inch rod mounting bracket for versatile configurations. Easily removable and reapplied using the accompanying 3M Dual Lock Tape strips, the Cajon Wood Block adds timbre to any percussionist's cajon set-up.
Pearl CAJH100 Cajon Holster Accessory Holder:
The Pearl CAJH100 Cajon Holster Accessory Holder is a heavy weight black nylon covering that easily attaches to the top and side of virtually any cajon using the provided velcro straps and will not interfere with other cajon mounted accessories like the Cajon Clave or Woodblock. The CAJH100 holster features two deep side pockets for various accessories, offering great utility for the versatile percussionist.
LP188 Foot Tambourine:
Now any musician can add that tambourine sound to their back beat, pulse or pattern with the foot tambourine. Constructed of high quality jingles in the traditional cyclops form with a durable elastic band, the LP188 is a great addition to your arsenal of sound.
Same Day Music is an authorized dealer of
Pearl
products.