Same Day Music is an
authorized Pearl dealer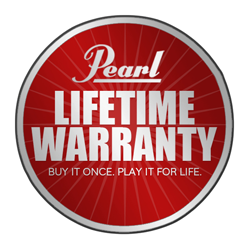 If Bond, James Bond were a drummer, the Pearl Rhythm Traveler 5-piece portable drum kit is the set that Q would present to him at the mission briefing. The four open-bottom toms and kick all stack together into a pile so compact you can fit it into a single bass drum bag, making one-handed portage of an entire shell-set possible. What's more, this kit ships with muffle heads so you can rehearse silently. Imagine: a professional Pearl drum kit that you can play on stage, in studio, and at all times of the day -- and that you can carry all at once without any help.
A Perfectly Portable, Professional Kit
This kit was designed with the quick getaway in mind, and it strikes a perfect balance between "lightweight" and "sturdy." Still, this is a professional trap kit all the way. From Pearl's patented Heat Compression Molded, real wood shells to the fast kick pedal to the included brass hi-hats and crash-ride, the Pearl Rhythm Traveler can hack it on stage and even in the studio, no problem. Because what's the point of portability unless the set is one you'd be proud to show up with?
Silent Practice with Muffle Heads
Just like a secret agent's bow-tie camera, the Rhythm Traveler is more than a one-trick pony. This unique kit ships with a set of muffle heads and rubber cymbals for stealthy practice sessions. The benefits of silent rehearsal on a kit that's got the same action and same head spacing as the one you'll play live are obvious: it's like being able to practice on your main kit anytime, anywhere. And switching from silent back to a live kit is as simple as changing drumheads and cymbals.
It Actually Sounds Like a Drum Kit
This kit is ultra-portable, yes, with its shallow shells and stackable design -- but it sounds good too. Pearl's patented Heat Compression Molded, real wood shells produce a warm, full-bodied tone. The fast kick pedal, included brass hit-hats and crash-ride come together to make a set that you'll be proud to bring to a gig.
Features:
:- Double-braced stands
- Silent ride/crash cymbal
- Silent hi-hat cymbal
- Muffle heads (mesh)
- Plastic heads
Hardware:
- H63 Stand
- S63 Stand
- C63 Stand
- P63 Stand
- 2-Tom arms
- 1-Short tom arm and clamp
- Brass and plastic cymbals and pads
Same Day Music is an authorized dealer of
Pearl
products.
Compact performance and silent practice kit@Includes plastic and quiet mesh heads@Single-headed 10", 12", and 14" toms@13" wood snare w/stand; 20" kick w/ pedal@Crash and hi-hat cymbals with stands and rubber mufflers
Same Day Music is an authorized dealer of
Pearl
products.