Same Day Music is an
authorized Peavey dealer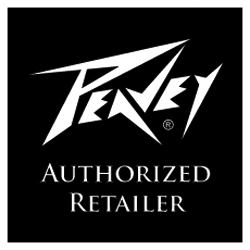 Peavey's comprehensive broad range of over-the-counter speaker components offer both the sound professional and the working musician an extensive assortment of quality components. From the Low Rider sub woofers, with incredible power handling capacity and impressive bass response to the steadfast Black Widow and BWX speakers with replacement basket assemblies, the Peavey line of speaker components is consistent and innovative.
The Black Widow/Super Structure still remains far ahead of any of its competitors due to its performance and unique design. These state-of the-art speakers feature Kevlar impregnated cones and a high efficiency magnet structure to provide outstanding sensitivity, reliability, and performance. The Kevlar impregnated cone is stiffer than an equivalent weight paper cone, reducing the tendency of the cone to distort the shape of the voice coil, thus avoiding rubs and scrapes. Superior power handling results from the increased stiffness, especially with large cone excursions. This cone also offers lower distortion than a paper cone due to a greater dampening of unwanted cone vibrations. The piston action of the Kevlar impregnated cone is extended to a higher frequency, while the range above is better controlled, with a reduction in vibrational break-up.
The magnet structure features a patented Peavey technology: a one piece die-cast back plate/pole piece assembly. This construction eliminates an undesirable "air gap" in the magnet circuit, enhancing efficiency and reliability.
Another Peavey original is the design of the speaker framework. In the unlikely event of the failure of a Black Widow loudspeaker, the cone/basket assembly is field replaceable with a factory assembled and tested replacement basket assembly. Instead of being forced to obtain a speaker, only a basket assembly is required. Lightweight and relatively inexpensive, the replaceable basket assembly offers an easy solution to spares and repairs.
Along with these state-of-the-art aspects, Black Widow speakers also provide the features expected in a professional application loudspeaker: a four inch edgewound aluminum ribbon voice coil wound on a Kapton former for high efficiency and sensitivity; a die-cast aluminum alloy frame for exacting lifelong alignment of the assembly; an extra large vent in the magnet structure for superior cooling and linearity at high drive levels; and heavy-duty spring loaded terminals adhering to industry standards for color coding.
The Peavey Black Widow speaker line: The high technology performer that is unsurpassed.
Same Day Music is an authorized dealer of
Peavey
products.
- Impedance: 8 ohms
- Power capacity: 1400 W Peak, 700 W Program, 350 W Continuous
- Sensitivity: 97.5 dB / 1 W 1 m
- Usable freq. range: 35 Hz ~ 1 kHz
- Cone: Kevlar impregnated cellulose
- Voice coil diameter: 4.0 inch / 100 mm
- Voice coil material: Aluminum ribbon wire, Polyimide-impregnated fiberglass former, Nomex(r) stiffener, Solderless diffusion welded OFHC copper leads
- Packed Weight: 21 lbs.
- Packed Width: 20 in.
- Packed Depth: 19.50 in.
- Packed Height: 6.50 in.
Same Day Music is an authorized dealer of
Peavey
products.
Shipping Weights and Dimensions

Shipping Weight: 22 lbs
Shipping Dimensions: 20 x 20 x 7 in