Same Day Music is an
authorized Peavey dealer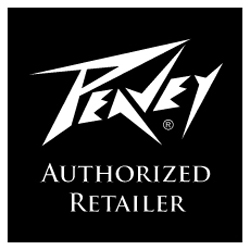 The SP15M is a two-way floor monitor speaker system comprised of a 15-inch Black Widow spider frame BWX woofer with a Kevlar/carbon fiber impregnated cone and an enclosure made from nine-ply Baltic birch. The thoroughly braced cabinet is covered with a durable black carpet and provided with a heavy duty perforated steel grille with a dark gray powder coating. An SA1 stand mount adapter is built in for side fill or PA use.
The low frequencies are provided by the 15-inch Black Widow BWX woofer with a Kevlar/carbon fiber impregnated cone and dust cap. Capable of over 500 Watts of continuous power handling (AES Std. 2-1984), the woofer can handle a lot of power, which also results in very low power compression. The high frequencies are handled by a 2 in. Rx 22 titanium diaphram compression driver utilizing ferrofluid cooling. This superb driver is coupled to a constant directivity horn with smooth, even response and good high frequency dispersion. The Rx22 driver features the Radialinear Planar Phase Correction System (US Patent 6,064,745), which provides smoother and extended high frequency response.
Input connection to the system is made via two 1/4-inch phone jacks and a 4-pin Neutrik in parallel. The internal passive crossover features the Sound Guard III tweeter protection circuit and an advanced topology crossover with high performance components to provide high power handling and reliability. Sound Guard, Peavey's proprietary high-frequency driver protection circuitry, provides long- and medium-term driver overload protection without impairing musical transients or dynamics. The crossover provides driver roll off and protection as well as driver EQ for the woofer and horn for clean, clear, smooth response. High quality, reliable crossover components include polypropylene capacitors and high current inductors. The optimal integration of the crossover with the selected drivers results in a smooth frequency response from 90 Hz to 14 kHz, making it highly appropriate for monitor applications.
Despite its compact dimensions, this system can put out some very high sound levels and handle 1000 Watts of undistorted amplifier power program, resulting in clean monitoring with high articulation and reliability.
Same Day Music is an authorized dealer of
Peavey
products.
Frequency Response, 1 meter on-axis, swept-sine in anechoic environment: 90Hz to 14 kHz (+/- 3dB)
Usable low frequency limit (-10dB point): 67 Hz
Power handling, Full range:
500 Watts continuous
1000 Watts program
2000 Watts peak
Sound Pressure Level, 1 Watt, 1 meter, in anechoic environment, full range: 99dB SPL (2.83 V input)
Maximum Sound Pressure Level (1 meter,) Full Range:
126 dB SPL continuous
132 dB SPL peak
Radiation Angle measured at -6dB point of polar response:
40 degrees horizontal by 90 degrees vertical
Transducer Complement:
Low frequency section:
One 15 in. woofer, vented, 1205-8 HE SF BWX
High frequency section:
One .875 in. exit/ 51 mm voice coil, Rx 22 compression driver on a CD horn
Box tuning frequency, low frequency section: 94 Hz
Crossover frequency (internal passive): Low frequency - high frequency: 1600 Hz
Impedance (2), full range:
Nominal: 8.0 ohms
Minimum: 6.3 ohms
Input connections, Full range:
Two 1/4 in. phone jacks
One Neutrik Speakon four-pin jack
Enclosure materials and finish:
Nine-ply Baltic birch plywood
Finished in black carpet
Mounting provisions: This unit is not designed for overhead suspension. SA-1 stand mount adapter incorporated and 8 rubber feet on 2 sides for dual angle use.
Dimensions (H x W x D):
45 degree baffle orientation: 15.63 x 24.00 x 17.75 in. (397 x 310 x 451 mm)
30 degree baffle orientation: 15.25 x 24.00 x 17.75 in. (387 x 565 x 451 mm)
Net Weight: 51lbs. (23.2 kg)
Same Day Music is an authorized dealer of
Peavey
products.