Same Day Music is an
authorized PG Music dealer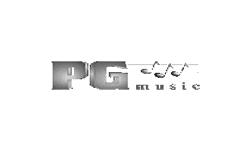 The award-winning Band-in-a-Box is so easy to use! Just type in the chords for any song using standard chord symbols (like C, Fm7 or C13b9), choose the style you'd like, and Band-in-a-Box does the rest. Band-in-a-Box automatically generates a complete professional quality arrangement of piano, bass, drums, guitar and strings in a wide variety of popular styles. (Jazz, Pop, Country, Classical and more.)
Plus, add REAL accompaniment to your song with RealTracks. These are recordings of top studio musicians that replace the MIDI track with audio instruments. They sound like real musicians, because they are real musicians!
Features:
- VST synth support for each track, for multiple synths on your songs
- Use VST Audio Plug-ins, such as reverb and delay, on each track
- Customize over 150 Guitar based RealTracks using Guitar Amp Simulator (AmpliTube CS)
- Includes Direct Input Guitar RealTracks
- Several different grooves within drum styles to choose from with EZ selection of DrumGrooves
- Add individual MIDI Tracks from any style, Loops support
Same Day Music is an authorized dealer of
PG Music
products.
System Requirements:
- Mac OS X 10.4 or later
- Intel Processor
- 512 MB RAM
- About 500 MB free hard disk space to install the Band-in-a-Box program, MIDI styles, Soloists, Melodists, and Lessons
- Additional hard disk space is required for RealTracks (about 1 GB per set) and RealDrums (about 100 MB per set)
- 1024x768 minimum screen resolution strongly recommended
- DVD-ROM drive (if installing from disc)
An external MIDI sound source is not required, since Band-in-a-Box can use the Mac's built-in sounds automatically. However you can also use an external MIDI keyboard or sound module if you wish.
Same Day Music is an authorized dealer of
PG Music
products.