Same Day Music is an
authorized PG Music dealer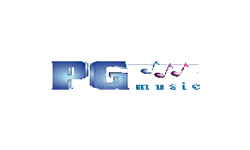 The award-winning PG Music Band-in-a-Box for Windows is so easy to use! Just type in the chords for any song using standard chord symbols (like C, Fm7, or C13b9), choose the style you'd like, and Band-in-a-Box does the rest. Band-in-a-Box automatically generates a complete professional-quality arrangement of piano, bass, drums, guitar, and strings or horns. Plus, add REAL accompaniment to your song with RealTracks and RealDrums. These are actual recordings of top studio musicians that replace the MIDI track with audio instruments. They sound like real musicians, because they are recordings of real musicians!
Features:
- With over 50 added features, 101 RealTracks, 54 MIDI SuperTracks, 20 Artist Performances, 8 Hi-Q MIDI Sounds and a great look! There are now over 1,200 hours of RealTracks/RealDrums available!
- The GUI had been redesigned, with a great look and feel, and many time-saving features have been added: Toolbars, Song/Style areas, on-screen mixer, redesigned chord sheet with handwritten "real" looking chord fonts and more.
- You can now make your own RealTracks - "UserTracks" - and you can use them like any RealTracks.
- There's a handy Instant Preview of Styles, RealTracks, and RealDrums so that you can quickly audition them to choose the best ones for your song.
- Loops now support Acidized Loops, so that tempo/chord root info is automatic. Support for FretLight guitar has been added. You can now hear Band-in-a-Box singing, with built-in support added for the popular online vocal synth "Sinsy." A Legato Strings feature automatically optimizes MIDI string parts to prevent retriggering the same notes.
Band in a Box Pro 2014 includes:
- Pro RealCombos -- Over 30 RealTracks in 9 Bands, and RealDrums Set 1.
- MIDI Styles Sets 0-3 -- Over 300 MIDI Styles in a variety of genres.
- MIDI SuperTracks Sets 1-3 -- 46 MIDI SuperTracks for Pop, Country & Jazz.
- Loops Set 1: Nature Sounds and Percussion Loops
- MIDI Soloist Set 1 -- 100 MIDI Solos in a variety of instruments.
- MIDI Melodist Set 1 -- Over 50 MIDI Melodists.
- Artist Performance Set 1
Same Day Music is an authorized dealer of
PG Music
products.
- System Requirements: Windows 98 / ME / NT / 2000 / XP / Vista / 7 / 8
- Memory (RAM): Minimum 128MB.
- Hard Disk space: Minimum 400 MB. More space is required for RealDrums, about 100 MB per set and RealTracks require about 800 MB per set.
- Audio: PC Sound Card or MIDI module.
Same Day Music is an authorized dealer of
PG Music
products.