Same Day Music is an
authorized Pioneer dealer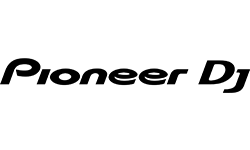 CDJ-2000
The CDJ-2000 is the most technologically advanced multi-format player in the world. Whether you need to read MP3, AAC, WAV and AIFF audio files on CD, DVD-ROM, SD card or USB memory devices, the CDJ-2000 handles it with great performance, reliability, and confidence.
Features of CDJ-2000
Pro DJ Link
Need to expand? Pioneer's Pro DJ link allows you to connect up to four CDJ-2000/900s via the Link Port to share a single music source, whether that be a hard drive, USB and/or SD memory card. Once you're all hooked up, you've got the ability to quickly find, display and select audio files from a connected source with he CDJ's built-in display and control knobs.
ConnectivityThe turntable features a 24-bit/48 kHz sound card and HID and MIDI control compatibility via a USB port. Up to 35 controls on the surface of the player can be used to trigger other devices, such as DJ effecters and software by way of HID and/or MIDI.

These HID controls also allow for superior interfacing with software, faster MIDI communication time, audio/visual streaming and two-way information on the display. You can say "goodbye and good riddance" to time code CDs as HID enables easy, precise and native control of DVS systems (such as Serato(TM) Scratch Live, Native Instruments' Traktor series and MixVibes Cross2) without the need for time-coded discs.

CDJ-2000 Enhancements- LCD panel and Graphic User Interface - DJs are used to the challenges of the low-light situations they work in, but a large 6.1-inch full-color LCD panel certainly doesn't hurt. Easily read song titles, jacket art and detailed track information, even in the darkest of clubs.

- Needle Search - Instantaneously pull up a specific part of a song with the Needle Search pad. Found directly below the CDJ-2000's high resolution LCD panel, the touchpad lets the DJ "place the needle" and quickly jump to a specific part of any track.

- Customizable Jog Dial - Adjustments for tension were enhanced from previous models allowing the DJ to further customize the feel of the jog dial from a light to heavy sensitivity.

A Lil' Somethin' Extra- For more accurate tempo control while mixing, the CDJ-2000 is enhanced with increased frame increments of 0.5 frames that allow you to set a cue point or loop point with more precision.

- To achieve the highest sound quality, the CDJ-2000 is equipped with the audio industry's highly respected Wolfson DAC processor for a transparent, accurate audio signal resulting in a highly improved signal-to-noise ratio and increased headroom.

Features of Rekordbox SoftwareThe CDJ-2000 turntable comes with rekordbox(TM), Pioneer's proprietary music management software that organizes and catalogs a DJ's entire music library. When music files are imported to rekordbox, the software analyzes each file and prepares them for use specifically with the CDJ-2000 turntable.

Analyze- Beats Per Minute (BPM) and tempo information for each song is identified, aiding the DJ in preparation and performance.

- Waveform Data - The waveform of each song is identified and displayed for quick data visualization and for use with the needle search function on the CDJ-2000 turntable.

Customize- Tag Info & Artwork - Edit and customize file information to meet performance needs.

- Hot Cues, Cue Points, and Loops - Prepare and customize cues and loops as well as create and manage hot cue banks.

- Playlists - Create, edit and manage customized playlists for different sets.

- Beatgrid - Utilizing the quantizing feature, cue points and loops can be set perfectly on-beat. The Quantize feature ensures cue points are set accurately and automatically, correcting and synching beats during manual looping or a real-time cueing.

Users can transfer analyzed music files to their preferred storage media and play them directly from the CDJ turntable. The software offers song information that can be viewed easily during performances on the CDJ's large display to quickly access content sorted by genre, title, BPM or whatever makes the most sense to you.

Same Day Music is an authorized dealer of
Pioneer

products.
Specifications
Compatible Media: Music CD, CD-R, CD-RW, DVD+/-R2, DVD+/-RW2, DVD+/-R-DL, USB Devices, SD Memory Card
Compatible Files: MP3, AAC, WAV, AIFF
File Systems Compatible with USB Storage: FAT12, FAT16, FAT32, HFS+
Frequency Range: 4Hz - 20kHz
Signal-to-Noise Ratio: 115dB or higher (JEITA)
Total Harmonic Distortion: 0.0018% (JEITA)
USB Ports: USB-A (1), USB-B (1)
Link Port: LAN / 100 base - tx
Audio Output Terminals: AUDIO OUT (RCA) x1, DIGITAL OUT (COAXIAL) x1
Other Terminals: CONTROL (f3.5mm mini plug) x1
Audio Output Voltage: 2.0 Vrms
Power Supply to Use: 120 V ac (60Hz)
Power Consumption: 28 W
Maximum Dimensions (W x D x H): 12.6 x 15.94 x 4.19 in.
Unit Weight: 10.14 lbs
Same Day Music is an authorized dealer of
Pioneer
products.