Same Day Music is an
authorized Pioneer dealer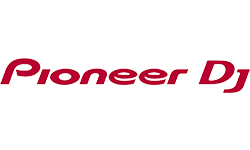 Pioneer's flagship CDJ player, the CDJ-2000nexus, offers exciting features and technologies including Wi-Fi connectivity, a first in the industry, compatibility with Pioneer's rekordbox App for iPhone, iPad or iPod touch, Android tablets and smartphones and functions such as 'Beat Sync,' 'Wave Zoom' and 'Slip.' Enhanced features inherited by the CDJ-2000nexus include a selection screen interface for a more intuitive music search experience, increased visibility of the needle search pad, and improved master tempo sound quality.
Industry's First DJ Player with Wireless Source Capability
The CDJ-2000nexus can utilize different music sources, from a hard drive to USB thumb drive and/or SD memory card, and now for the first time, an iPhone, iPad and iPod touch, Android devices and a computer via Wi-Fi. Using Pioneer's rekordbox App to create playlists, cue/loop points, beat location settings, waveform analysis and more, users can temporarily transfer the content wirelessly through Wi-Fi to the CDJ-2000nexus. Users can also perform the same wireless function with a Mac/PC utilizing the rekordbox music management software.
rekordbox Software Functions
With the included rekordbox music management software installed on a computer, users can organize and catalog their entire music libraries. Added features available when rekordbox is used with the CDJ-2000nexus include music file analysis functions such as Wave Form Zoom (wave form expansion) and Key, as well as additional settings such as Active Loop and Hot Cue Auto Load.
When music files are imported to rekordbox, the software analyzes each file and prepares it for use specifically for the CDJ player. Key elements of Pioneer's rekordbox software:
- Data Analysis - Wave Zoom, Key, Wave, Beat Grid, BPM, ID3 Tag and more
- Track Settings - Active Loop, Hot Cue Auto Load, Cue, Loop
- Creation and editing of Playlists
- Saving of playback log information
Full-Color LCD Display
The CDJ-2000nexus features a large full-color WQVGA 6.1-inch (480 x 234) LCD panel for displaying song titles and album art as well as detailed track information. The Wave data of each song is also illustrated on screen and the 'Wave Zoom' function provides five different levels of magnification of the wave data which are color-coded according to bandwidth.
Pro DJ Link
Pioneer's Pro DJ Link feature enables up to four CDJ-2000nexus players to connect via the Link Port and share a single music source. Additional functions added to the CDJ-2000nexus that can be accessed when other players are connected using the Pro DJ Link are:
-
Beat Sync
- Tempo and beat location of music currently playing on one of the device can be matched with the push of a button.
-
Traffic Light
- Shows the keys of music being played by any players connected via Pro DJ Link, making key-compatible music easier to find by a different color indicator.
-
Beat Count and Phase Meter
- The Beat Count, which is the number of beats until a set point (memory cue), and the Phase Meter, which shows the beat/bar of the music, can also be displayed simultaneously by other players.
Performance Functions
Pioneer added Slip Mode and Quantize functions to the CDJ-2000nexus for added performance and reliability.
-
Slip Mode
- When activated, Slip Mode silently continues song playback during a loop, reverse or scratch and continues audible playback at the exact time when the loop, reverse or scratch is ended, resulting in smoother transitions.
-
Quantize
- Utilizing a Quantizing feature, cue points and loops can be set perfectly on-beat. The Quantize feature ensures cue points are set accurately and automatically, correcting and synching beats during manual looping or real-time cueing to reduce off-beat mistakes.
-
My Settings
- The function settings of a player can be saved to an iPhone, iPad or iPod touch, USB storage device, SD memory card, or other device.
Same Day Music is an authorized dealer of
Pioneer
products.
Main Features:
- Play formats: AAC, AIFF, MP3 (MPEG-1 32Kbps - 320 Kbps, MPEG-2 16 Kbps - 160 Kbps), WAV, iOS version of rekordbox: MP3 and AAC only
- MIDI Control
- ProDJ Link
- KUVO ready
- Anti Vibration
- rekordbox
Included Accessories:
- CD-ROM (rekordbox, driver software and operatinginstructions)
- Power cord
- Audio cable
- LAN cable
- Disc forced Eject Pin
- iPod cable
- Read Before Use / Quick Start Guide
Specifications:
- Width: 320 mm
- Height: 106.5 mm
- Depth: 405.7 mm
- Weight: 4.7 kg
- Processor: Wolfson DAC processor
- Soundcard: 24 bit/48 kHz
- Frequency Range: 4 - 20,000 Hz
- Signal-to-Noise Ratio: > 115 dB (JEITA)
- Distortion: < 0.0018 % (JEITA)
- Audio Output Level: 2.0 Vrms (1 kHz, 0 dB)
- Power Consumption: 37 W
- Power Requirements: 220-240 V / 50/60 Hz
Display:
- 6.1-inch, full-colour LCD screen
- Playing Address
- Wave Zoom Display
- Phase Meter
- Beat Counter
- On Jog Display
Performance Control:
- Jog Dial size: 206 mm
- Jog Dial type: Touch sensitive
- Jog Modes: CDJ / Vinyl Mode
- Hot Cue
- Hot Loop
- Active Loop
- Auto Beat Loop
- Reloop
- Real Time Seamless Loop
- Loop Adjust: In / Out Adjust
- Loop Cutter
- Slip Mode
- Beat Sync
- Reverse
- Pitch Bend
- Fader Start / Back Cue start
- Scratch Play / Cue
- Quick Scratch: After searching track
- Relay Play
- Frame Search: 1/150 second
- Vinyl Speed Adjust
Cue Functions:
- Auto Cue
- Manual Cue
- Real Time Cue
- Cue point sampler
- Cue Loop Memory
Tempo:
- Master Tempo
- BPM Counter
Tempo Control steps:
- 0.02 % at +/-6 %
- 0.05 % at +/- 10 % & 16 %
- 0.5 % at WIDE
Tempo Control Ranges MP3:
- +/-6 %
- +/-10 %
- +/-16 %
- +/-100 % WIDE
Tempo Control Ranges CD:
- +/-6 %
- +/-10 %
- +/-16 %
- +/-100 % WIDE
Terminals:
Audio Sources:
- Computers (Mac/Windows PC)
- iPhone/iPad/iPod touch, Android phones/Android Tablets
- Optical drive (CD, CD-R/RW, DVD+R, DVD-R/RW/R-DL)
- SD Card
- USB storage devices (flash memory/HDD, etc.)
Outputs:
- 1 ANALOGUE (RCA)
- 1 S/PDIF Digital (RCA)
- 1 Control (Mini-jack)
LAN:
- 1 (100Base-TX)
USB:
- 1 USB A port
- 1 USB B port
Same Day Music is an authorized dealer of
Pioneer
products.