Same Day Music is an
authorized Pioneer dealer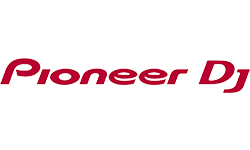 The Pioneer DDJ-SB Serato DJ Controller uses a larger body than other models in the same price range, and has been designed with distinctive DJ styling including the jog plate made of the same aluminum material as other premium models, and a hairline finish applied to the top surface.
Operability for dynamic, energetic and intuitive DJing
Comes with large rubber pads that allow for dynamic and energetic DJing, as well as "BIG JOG" for reliable scratching. The use of a layout with two decks on either side of the controller, and a 2-channel mixer in the center give the user an intuitive feel for the tracks being played and mixed.
Performance Pads for dynamic and energetic DJing
In addition to performance functions such as "HOT CUE," "LOOP" and "SAMPLER" that come with Serato DJ Intro, the CUE and PLAY buttons that form the basic functions of the controller can be operated with dynamic and energetic movements using the large Performance Pads located at the front of the controller.
Independent knob for MANUAL FILTER for each channel
An independent control knob for the DJ software's MANUAL FILTER has been installed on each channel. This allows tracks to be changed instantaneously with a single action when mixing or arranging tracks.
Precision control for reliable scratching with "JOG"
Comes with "JOG" that features a faster jog response rate and optimal adjustments made to the rotation speed while DJing, as well as allowing reliable scratching.
Filter Fade function for smoothly mixing tracks together
The FILTER FADE function is included which allows tracks to be mixed naturally using a cross-fader by adjusting the volume of the left and right decks, as well as the high-pass filter parameters. The high-pass filter of the left and right decks is linked with the actions of the cross-fader, and the deck volume is adjusted while applying the base filter, which allows tracks with vastly different BPMs or styles to be mixed smoothly
Plug and Play with Serato DJ Intro Software
Control of a wide range of Serato DJ Intro functions, including "HOT CUE," "SAMPLER" and other effects, in addition to basic functions like scratching and mixing, make Djing all the more exciting. Every button and knob on the controller is compatible with plug-and-play that is linked with "Serato DJ Intro," which means the controller is ready for DJing by simply connecting it to a PC. DJs can also purchase the paid upgrade to Serato DJ and unlock the advanced features it has to offer, including Recording, more Cue Points, Samples and Loops -- plus advanced features including Slip Mode, iZotope FX and FX Expansion Packs.
Features:
- Built-in sound card (audio interface) that allows DJing by simply connecting a PC with a single USB cable
- High-quality sound design tuned to suit "Serato DJ Intro" audio characteristics
- Compatible with USB power that uses the PC as the power source
- Handle spaces used on both sides for more convenient installation
Same Day Music is an authorized dealer of
Pioneer
products.
Included Software:
- Serato DJ Intro (free download)
- Serato DJ (paid upgrade)
Specifications:
- Maximum dimensions (WxDxH): 19.2" x 10.7" x 2.3" (487 x 271.2 x 58.5 mm)
- Weight: 4.6 lbs (2.1 kg)
- Soundcard: 24 bit/44.1 kHz
- Frequency response: 20 Hz ~20 kHz
- Total Harmonic Distortion ratio: 0.005% or less
- S/N ratio: 90 dB (PC)
- Power Requirements: USB (Bus-powered through computer), rated output 5 V DC
Performance Control:
- Channels: 2
- Deck Control: 2
- Jog Wheel: 128 mm durable aluminium jog wheel
- Filter: High & Low Pass filter
- Filter Fade
- Effects: FX engine Powered by iZotope: 10 effects
- Hot Cues: 4
- Manual Loop
- Autoloop
- Slip Mode
- Talkover Function
Terminals:
- Inputs: 1 MIC (1/4" Jack)
- Outputs: 1 MASTER (RCA), 2 HEADPHONE MONITOR (1/4" Jack, MiniPin)
- 1 USB B port
Serato DJ Intro System Requirements:
Windows:
- Windows 7 with Service Pack 1/Vista with Service Pack 1
- (CPU) Intel 2.0 GHz Core 2 Duo / (Memory) 1 GB
Mac OS X:
- Mac OS X v10.8.5/10.7.5/10.6.8
- (CPU) Intel 1.6 GHz Core Duo / (Memory)1 GB
- Display resolution: 1280 x 720 or higher resolution
Same Day Music is an authorized dealer of
Pioneer
products.