Same Day Music is an
authorized Pioneer dealer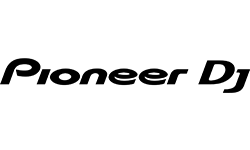 World's First Effect Frequency Filter
The Pioneer DJM-700 is the world's first mixer to include an Effect Frequency Filter that allows the user to limit the frequency bands subjected to effects. Conventional effectors are limited to manipulating the entire frequency range, whereas the Effect Frequency Filter now expands the user's ability to showcase their own mixing style.
Manual Filter Capabilities
The DJM-700 mixer also utilizes the same manual filter found on the well-renowned DJM-800. The manual filter enables more intuitive settings for multi-layered effects expanding the DJs creativity with their music. Combining multi-effect options such as the Beat Effect, along with the manual filter allows for a wider range of DJ style and expression.
Multiple Effects Capabilities
The DJM-700 features multiple effects that can be synced with its tempo (beat) capabilities:
- Beat Effect: Pioneered from the DJM-600, the beat effect has evolved into a 96kHz / 24-bit high performance effect in the DJM-700. The mixer automatically detects the tempo, also known as beats per minute (BPM), of the tune so the effects are aligned perfectly with the beat. The DJM-700 features various effects such as delay, echo, transformer, filter, flanger, phaser, reverb, robot and crush.
- Roll Sampler: The DJM-700 incorporates a roll sampler with a 96kHz/24-bit output which allows for real-time sampling of sounds. Four patterns of sampling are available which includes roll, reverse roll, pitch up roll and pitch down roll.
- Beat Select Buttons: The mixer incorporates two beat select buttons letting the user quickly select the effect timing to add even further control over the effects.
Fully Assignable MIDI functions
DJs with external equipment such as DJ Effectors or DJ software applications that support MIDI control can rely on the DJM-700 to work in unison to create the ultimate DJ experience. 49 of the buttons, knobs and switches on the DJM-700 provide direct MIDI signal output for a variety of control options of external devices.
Additional Features:
- Digital Output Terminal: Outputs 96kHz/24-bit sampling rate for the highest quality sound
- Cross Fader Assign: Each channel of the mixer can be assigned to the cross fader
- 3-Band Equalizer: A built-in equalizer on each channel enables level control within a -26 dB to +6 dB range for high, mid and low bands, respectively
- Fader Curve Adjust: The user can change the cross fader/channel fader curve
- Talk Over: The mixer automatically lowers track volume when it senses vocal input on the microphone
- Peak Level Meter: A 15 segment LED meter shows the input audio levels for each channel plus the master output level
- Fader Start: With Pioneer CDJ products, the fader can automatically start the players by simply sliding the cross fader or channel fader
With an industry-standard size and layout and a dual shield structure that eliminates digital noise, the DJM-700 is both robust and reliable. Setting a new industry standard for quality mid-market mixers, the DJM-700 allows DJs to transmit unique musical flows using a formidable range of features.
Designed to impress in bar, club and studio spaces alike the DJM-700 is set to have a wide appeal.
Same Day Music is an authorized dealer of
Pioneer
products.
- Number of Channels: 4
Input Terminal:
- CD / Line x 5 (RCA)
- Phono x 3 (RCA)
- Mic x 2 (XLR x 1, 1/4-inch PHONE x 1)
Output Terminal:
- Master Out x 2 (RCA x 1, XLR x 1)
- Booth Out x 1 (RCA)
- Headphone Monitor Out x 1 (top panel 1/4-inch phone x 1)
- Rec Out x 1 (RCA)
- Digital Out x 1 (Coaxial)
Other Terminals:
- Send x 1 (1/4-inch Phone)
- Return x 1 (1/4-inch Phone)
- Midi Out x 1 (5P DIN)
- Control Out (3.5 Mini Jack) x 2
- Sampling Rate: 96 kHz
- A/D, D/A Converter: 24-bit
- Frequency Response: 20 Hz - 20 kHz
- Total Harmonic Distortion: 0.005% or less
- Signal-to-Noise Ratio: 104 dB (Line)
- Head Room: 19 dB
- Power Requirements: AC 220-240V ( 50/60 Hz)
- Power Consumption: 33 W
- Dimensions (without package) (W x D x H): 320 x 378.4 x 107.9 mm
- Weight (without package): 6.6 kg
Same Day Music is an authorized dealer of
Pioneer
products.