Same Day Music is an
authorized Pioneer dealer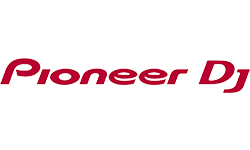 Many DJs are as critical of the look of their gear as they are with its audio performance. The Pioneer HDJ-1000 headphones provide the high-quality sound that DJs expect as well as choices of colors and styles that make a fashion statement.
High Impact Bass
To obtain the best audio reproduction possible, the drivers in the Pioneer HDJ-1000 headphones were tuned to deliver more impact in the lower bass frequencies of music. Its thick 38 micrometers diaphragm and 1.5 mm voice coil are more efficient in generating the critical midrange and mid-bass frequencies in music and produce a more linear response even at high volume levels.
The mono/stereo selector circuit was modified to obtain clearer playback, especially in the midrange frequencies. With this change, the headphones deliver sounds such as bass drums, snare drums and cymbals with more impact.
Amazing Fit and Comfort
For maximum comfort, the headphones use low rebound urethane for the ear pads providing a better fit and increased comfort when used for long DJ sessions. Along with the urethane pads, the design of the headphones wrap around the ears to achieve excellent sound insulation, making monitoring effortless even in the noisiest environments.
Easy Fold-Away Design
Additional features of the Pioneer HDJ-1000 include an easy fold-away structure design, convenient carrying pouch, a swivel mechanism with 90-degree housing rotation to support a wide range of monitoring styles, and a convenient mono/stereo switch for single-ear use.
Same Day Music is an authorized dealer of
Pioneer
products.
- Type: Tightly closed dynamic headphones
- Frequency: Range 5 to 30,000 Hz
- Impedance: 40 Ohm
- Maximum Input: 3,500 mW
- Output Sound: Level 107 dB/mW
- Unit Type: 50 mm dome
- Plug: 3.5 mm 3P mini plug (gold-plated)
- Weight: 9.5oz (excluding cord)
- Accessories: 06.3 mm 3P plug adapter with screw & carrying bag
- Connection cord: 3.94 ft long single coiled cable (approx. 9.84 ft when straight)
Same Day Music is an authorized dealer of
Pioneer
products.