Same Day Music is an
authorized Pioneer dealer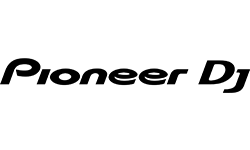 Step away from the DJ controller -- and keep the party going, with the Pioneer XDJ-R1 Wireless DJ System, the included Rekordbox software on your computer, and Remotebox app on your iPhone, iPad, or iPod touch. The Pioneer XDJ-R1 DJ controller can be remotely controlled wirelessly, giving DJs the ability to continue their music mixing performance even when they move away from the system.
Remotebox: Mix from your iPhone/iPad/iPod
The remotebox app with an iOS device such as an iPhone, iPad, or iPod touch, allows the XDJ-R1 to be remotely controlled wirelessly. Many of the system's functions can be accessed directly on the display including controlling volume levels, choosing and changing songs as well as the ability to mix songs from a USB device plugged into the system. Pioneer's remotebox app is available now at no charge from the App Store.
Rekordbox: The Digital Crate on Your PC
Rekordbox software is included with the XDJ-R1. The Rekordbox software enables users to prepare and manage music stored on their computer. It can be used to classify and search for music files stored on a computer and create playlists. It detects, measures and adjusts beats, tempos (BPM) and other elements of the music files prior to a performance. It can also be used to set and store point information (for cueing, looping, hot cueing, etc) prior to a performance.
Dual CD Decks and USB Thumb Drive Port, Too
Unlike conventional systems, the XDJ-R1 is equipped with dual CD players in addition to a USB port for media playback. The system supports a variety of different music formats including conventional compact disc, a CD with MP3, AIFF and WAV files, and a USB storage device with MP3, AAC, WAV and AIFF files. For added convenience, the unit also offers MIDI support for operation of various DJ software.
Features:
- Beat Sync: With a touch of the Sync button, the system automatically synchronizes the beats of songs analyzed through Pioneer's rekordbox music management software.
- Hot Cue: The unit features three points of Hot Cues to enable playback of music from specific points.
- Sampler: For added effects including Trans, Flanger, Echo, and Roll are available to combine with songs currently playing.
- Sound Color FX: The unit offers four additional effects (Filter, Crush, Noise and Jet) for more creative mixing options.
- Auto Beat Loop: This function automatically loops music at a specific tempo.
- Quantize Function: Automatically corrects synchronization of effects when using Auto Beat Loop or Beat Effect.
- Noise Reduction: To significantly reduce noise, internal analog and digital circuits were separated, and the distance for digital conversion of analog input signals were shortened. All signal processing is conducted using a high-performance CPU for clear audio output.
- Independent 3-band isolator.
- Internal sound card (Audio Interface).
- Complete with Master out (XLR), Booth Out, AUX and MIC ports.
Same Day Music is an authorized dealer of
Pioneer
products.
- Playable media: USB storage devices, music CD, CD-R/RW
- Playable file formats: MP3, AAC, WAV, AIFF (only MP3, WAV and AIFF can be played from CD)
- USB storage formats supported: FAT32, FAT16
- No. of channels: 2
- Wireless communications format: IEEE 802.11b/g (2.4GHz band)
- Sampling rate: 44.1 kHz
- A/D, D/A converter: 24bit
- S/N ratio: 98dB or above (USB)
- Total harmonic distortion: Max. 0.006 % (USB)
- Head room: 19 dB
- Inputs: PHONO/LINE (RCA) MIC (1/4 inch PHONE) AUX (RCA)
- Outputs: MASTER OUT (XLR, RCA) HEADPHONE MONITOR OUT (front 1/4 inch PHONE, MiniPin)
- BOOTH OUT: RCA
- Dimensions (W x D x H) : 623 x 308.4 x 107.7
- Weight: 6.8kg
Included Rekordbox music management software:
- Mac OSX (10.5.8 or above)
- Windows 8: Windows8 Pro/Windows8
- Windows 7: Home Premium/Professional/Ultimate
- Windows Vista: Home Basic/Home Premium/Ultimate/Business (SP2 or above)
- Windows XP: Home Edition/Professional (SP3 or above) (Windows XP Professional x64 edition is not supported)
Remotebox mobile application:
- iPhone 3GS or above/iPod touch 3rd generation or above /iPad iOS5 or above
Same Day Music is an authorized dealer of
Pioneer
products.