Same Day Music is an
authorized Pro Co dealer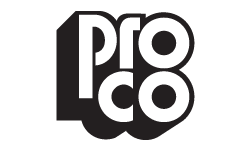 The DB-1 preserves the "punch" and clarity of the sound that is often lost when mic-ing a speaker, while eliminating the leakage, distortion, and coloration. The signal delivered to the P.A. or studio mixer is crisp and clean - a vital element in retaining the full depth and brilliant sound of such current high-tech equipment as FM synthesizers and digital drum machines.
The DB-1 may be inserted into the signal path at virtually any stage required. For instance, a bass guitar signal can be "taken direct" straight off the instrument for a clean, natural tone, from a preamp or line output for a punchier or "equalized" sound, or from the speaker output of the amp if the dirtier "edge" is desired. Keyboards can each be sent with a separate DB-1, or combined by taking a feed from the keyboard's stage mixer.
Built for the road, but equally at home in the recording studio, the DB-1's rugged 16-gauge steel and aluminum "Uni-box" construction enclosure is finished in a durable black anodized aluminum side channels. The uniquely slotted side channels allow for stacking on top or strapping side-to-side of virtually any number of Pro Co Monoface devices using the Uni-box construction. East to read control graphics are incorporated into the Lexan top panel overlay.
Features
Floating transformer-balanced XLR output for maximum isolation
SPKR mode handles amplifiers up to 600W RMS
Hi cut filter reduces distortion
GND/Lift switch eliminates hum and buzz
Rugged "Uni-box" construction for super-strength and shielding
Recessed switches and connectors resist damage
Passive design requires no batteries or phantom power
Controls
Input: 6.3mm (1/4") phone accept signals from instrument or other source. Input imedance-greater than 100kohm; SPKR-approx. 8 kohm. Handles signals of up to 69V RMS (approx. 600 watts across an 8 ohm load).
Output: 6.3mm (1/4") phone jack provides "loop-through" (parallel) connection from input jack. Used when inserting DB-1 between instrument and amplifier.
Speaker/Instrument: Speaker (SPKR) position inserts 20 dB pad between Input and DBT-1 transformer for increased level handling capability (used for speaker or line level sources). Instrument (INST) position bypasses pad. (SPKR/INST switch affect only Lo-Z Output level.)
Hi Cut/Flat: Switch is only functional when SPKR/INST switch is set to SPKR. Hi-Cut position inserts a low-pass filter (-3 dB @ 4kHz, 6 dB. Octave) to simulate frequency response of a typical oudspeaker. Used when source is guitar or bass amplifier speaker ouput. Flat position bypasses filter. (Hi Cut/Flat affect only Lo-Z Output response).
Lo-Z Output: Male 3-pin XLR-type connector provides balanced floating low-impedance output (pin 2 hot). Connect to mixing board microphone channel input. Recommended load impedance: 1.0 kohm.
Ground/Lift: Ground (GND) position connects Input and Lo-Z Output grounds together. Lift position "floats" Lo-Z Output. Use to reduce hum and buzz by eliminating ground loops and providing proper grounding for various conditions.
Same Day Music is an authorized dealer of
Pro Co
products.
Frequency Response: 20 Hz - 20 kHz +/- .5 dB @ -15 dBv output
Total Harmonic Distortion: Less than .1% 30 HZ-20kHz @ -15 dBv
Phase Response: < 18 degrees @ 20 kHz
Dimensions (D x W x H): 4.875 in. x 4.375 in. x 1.75 in.
Same Day Music is an authorized dealer of
Pro Co
products.