Same Day Music is an
authorized Pro Co dealer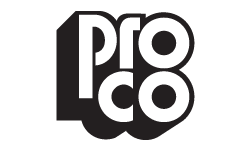 Do you straddle the fine line between the traditional guitarist and the constant innovator? Are you just as comfortable laying back in the pocket as you are taking a solo with a foot up on the monitor? If this sounds like you, The RAT 2 will be your go-to distortion pedal for every gig, whether it's rock, blues, punk, or jazz.
This is the classic RAT tone. The standard that all other distortion devices are measured against. Heard on thousands of recordings, it has helped define the sound of the past three decade's most influential bands.
The beauty of the RAT 2 lies in its versatility. Used as a primary distortion, it excels at arena rock rhythm tones and soaring leads. Do you have a powerful amp with too much headroom for the gig? The RAT 2 nails that sweet spot where a tube amp goes from sparkly clean to warm overdrive. Maybe you already love your amp's distortion. Use the RAT 2 as a boost for solos and get the extra kick you need.
The RAT 2 features the legendary the legendary RAT Filter control. Turn it to the right to roll off brittle high-end frequencies. Having trouble cutting through the mix? Turn the Filter down and allow the natural brightness of your instrument to shine through. The Distortion and Volume controls dial in the perfect amount of gain while keeping the level consistent with your clean tone. While there's no mistaking the legendary RAT tone when the pedal is on, true bypass switching guarantees that no extra noise will creep into your signal when it's turned off.
Features:
- 100% analog signal path
- Pro Co's classic, virtually indestructible steel enclosure
- Heavy-duty, industrial footswitches, knobs, and jacks
- On/Off LED indicator
- Sloped face for easy stomping
- Glow in the dark graphics
- Military-spec glass-epoxy circuit board
- AC jack (RPS-1 power supply sold separately)
- "No tools required" battery compartment (9 volt not included)
- Five year limited warranty
Same Day Music is an authorized dealer of
Pro Co
products.
- Input Impedance: 1 Megohm
- Equivalent Input Noise: -110 dB
- Output Impedance: 1 Kilohm
- Maximum Gain: 60 dB
- Filter: 6 dB/octave low-pass
- Power Requirements: 9V battery or external DC power supply (RPS-1)
- Battery Consumption: 3.0 mA/160 hours
- Dimensions:
- Height: 2-7/8 inches (73mm)
- Depth: 4-1/16 inches (103.2 mm)
- Width: 3-1/8 inches (79.4 mm)
- Weight: 1.7 lbs (0.8 Kg)
- Shipping Weight: 2.0 lbs (0.9 Kg)
Same Day Music is an authorized dealer of
Pro Co
products.
Shipping Weights and Dimensions

Shipping Weight: 2 lbs
Shipping Dimensions: 5 x 5 x 4 in