Same Day Music is an
authorized Primacoustic dealer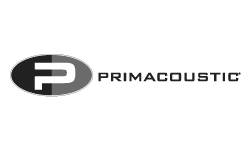 The Primacoustic VoxGuard is a portable acoustic screen designed to reduce the ambient noise around a microphone when recording. This helps to eliminate excess echo and reverb on vocals and more, allowing the engineer to reintroduce the desired effects during mixing or post-production.
The VoxGuard features high-density open cell acoustic foam to provide maximum absorption throughout the vocal range. An extra large high impact ABS outer shell keeps unwanted noise out, while innovative slotted ports prevent excess bass buildup and resonance commonly associated with stand-mounted absorbers. Once mounted, a rear access cable port allows any hand held or studio microphone to be articulated and directed at a specific source.
Unlike other similar offerings that employ heavy and cumbersome steel parts, the VoxGuard is lightweight and easy to use. The outer shell simply slides over the threads of the microphone stand and is held in place by the clip, shock mount, or included threaded adapters. For additional flexibility, an extension bar is included for infinite mic placement possibilities. The lightweight design and simple mounting hardware makes positioning the VoxGuard easy without the usual fear of the stand falling over and damaging the microphone.
The VoxGuard is unique in that it is larger than competitive products while being lighter. This makes it more stable on the mic stand and opens the door to a wide array of applications including shielding instruments from each other in the studio; as a desktop acoustic shield for podcasting; as a portable acoustic gobo in front of amplifiers, acoustic instruments, or anywhere that basic isolation is required. This makes it an ideal tool for recording studios, film and television, podcasting, and mobile recording.
The VoxGuard attaches to a mic stand with the supplied threaded mic stand adapter. An open slot allows the cable through the back side while allowing the microphone to be articulated for optimum positioning.
Application 1: Recording Vocals In The Control Room
The most common application for the VoxGuard is using it to control the spill and reverberant field in a recording studio. Simply mount the microphone in the VoxGuard and you are set to go. For greater acoustic control, having the artist's back to a treated wall surface can further reduce the ambient field. Often, artists find that singing in the control room to be uncomfortable. The VoxGuard provides an instant vanity screen that can calm the artist and improve the performance.
Application 2: Isolating An Acoustic Guitar Instrument Microphone
When recording several instruments at the same time, spill between them can pose problems. The VoxGuard's innovative design allows hand-held or instrument microphones to be used while providing an excellent means of attenuating other instruments from spilling into the mic. Simply mount the VoxGuard onto the microphone stand and the mic onto the VoxGuard, point, and record. With VoxGuard you hear more of what you want and less of what you do not.
Application 3: Recording A Podcast In The Field
With today's world of instant messaging, fast paced news and field reporting, setting up a remote broadcast or recording arrangement in less than ideal environments has become common place. The VoxGuard opens the door to improved audio by eliminating powerful first order reflections while attenuating outside noise. This makes it ideal for quick table-top setups, hotel lobby interviews and on-site dialog replacement. Simply mount on a mic stand to create a boundary around the microphone.
Features:
- Controls ambient space around the mic
- Creates an intimate sound field
- Delivers cleaner, more articulated, voice tracks
- Allows you to add ambiance as needed
Same Day Music is an authorized dealer of
Primacoustic
products.
- Baffel Material: SP-9010 ABS plastic shell, 3/16" (4.5mm) thick
- Black with textured finish
- Absorber Material: 1 in High-density open cell acoustic foam,
- 2.2 lb/per cu-ft, charcoal color
- Dimensions (W x H x D): 18" x 15" x 7.5" / 457 mm x 381 mm x 190 mm
- Mounting Hardware: Threaded mic stand adapter and knurled ring inluded.
Same Day Music is an authorized dealer of
Primacoustic
products.