Same Day Music is an
authorized PreSonus dealer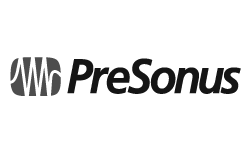 Stemming from their popular ACP-8 technology, the ACP88 comprises 8 channels of compression, limiting, and noise gating for a variety of applications. The ACP88 is the highly anticipated replacement for the ACP-8.
The ACP88 has 8 separate compressors/gates. Each compressor features control of threshold, ratio (1:1-20:1), attack, release, hard/soft knee, auto/manual attack and release curves, and gain. Each gate features threshold, attack and release, and switchable gate range. The ACP88 features servo balanced or unblanced inputs and floating balanced or unbalanced outputs. For every channel there is a side chain jack for spectral compression and a separate sidechain jack for gate processing. Each channel boasts full gain reduction metering, compression threshold indication, and gate open/close. Front panel buttons include hard/soft knee compression, peak/auto compression, bypass, gate range, and link. The link feature uses a unique summing bus that provides multiple combinations of master/slave link setups.
The ACP88 has increased dynamic range (giving greater control over attack and release parameters) and a completely redesigned noise gate - including attack, release, range, and wider dynamic range threshold control. Servo balanced inputs and outputs for extremely low noise operation. Side chain and key inputs on every channel, as well as the popular linking feature found on the ACP-8 and ACP-22. Roadworthy construction with a high-performance, built-in power supply, the ACP88 is housed in an all-steel chassis with a blue anodized aluminum front panel.
Same Day Music is an authorized dealer of
PreSonus
products.
Frequency response: 10Hz to 50KHz, S/N> 94dB, THD < 0.01%
Same Day Music is an authorized dealer of
PreSonus
products.