Same Day Music is an
authorized PreSonus dealer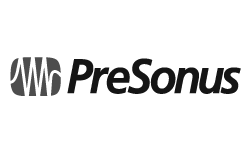 Featuring Presonus' FireStudio Mobile 10x6 firewire audio interface, the MobileStudio offers a tough, versatile, expandable, portable FireWire recording system for your Mac or PC at home and on the road. The PreSonus FireStudio Mobile provides high-end audio and a wealth of analog inputs in a rugged, portable FireWire interface. This is the only interface that delivers true 48V phantom power when bus-powered.
This All-Presonus Package includes two SD7 small-diaphragm, "pencil" condenser mics and monitor with high-definition HD7 headphones.
Features
- FireStudio Mobile FireWire audio and MIDI interface with cables
- 24-bit resolution, 96 kHz sampling rate
- 2 front-panel mic/instrument inputs with Class A XMAX mic preamplifiers
- 6 line-level inputs
- MIDI and S/PDIF I/O
- 48V phantom power for SD7 condenser microphones
- Zero-latency monitoring via internal mixer
- Elegant single-window work environment
- Powerful drag-and-drop functionality
- Unlimited audio tracks, MIDI tracks, virtual instruments, buses, and FX channels
- Instantly configures to PreSonus audio interfaces
- 25 Native Effects 32-bit effects and virtual instrument plug-ins
- 4+ GB of third-party plug-ins
- HD7 studio monitoring headphones with:
- High-resolution neodymium drivers
- Precision-tuned acoustic chamber
- Extended bass response
- Lightweight design
- SD7 small-diaphragm studio condenser microphones
- Including cables and X/Y mic-stand adapter
- Computer Recording Made Easy Quick Start Guide
- Includes Presonus Studio One Artist and Universal Control Software
The Most Inputs of Any Mobile Interface
The FireStudio Mobile is a ten-input, six-output professional recording system that combines two PreSonus XMAX Class A microphone preamplifiers; six line-level, analog input channels; S/PDIF digital input and output; MIDI I/O; and headphone monitoring with separate gain control. The FireStudio Mobile beats any and all competition when it comes to flexibility and input count. You can record a whole band with the FireStudio Mobile.
48V Phantom Power
Offering full 48 volts of phantom power from your laptop, the FireStudio Mobile utilizes
XMAX Class-A microphone preamplifiers to boosts the level to almost 400 times that of the original signal.
Preamps at a Glance:
- High Voltage - The XMAX preamplifier runs on power rails of 30V.
- Discrete components, not op-amps.
- Class A circuits to deliver purer, clearer, and more musical results
- High headroom, low noise, wide dynamic range and extended frequency response
- Ins and Outs
For a compact, portable unit, the FireStudio Mobile is loaded with I/O. We start with a pair of combination XLR/TS mic/instrument jacks, which are in the inputs for channels 1 and 2. The XLR mic inputs are routed to the aforementioned XMAX solid-state mic preamplifiers. The high-impedance, TS instrument inputs let you plug guitars or basses directly into the front panel.
On the back are 6 more balanced, 1/4-inch line level inputs for channels 3 through 8, plus a DB9 connector that accepts a breakout cable (included) to provide stereo S/PDIF digital I/O and MIDI I/O. You get two FireWire 400 ports: one port connects to your computer, and the other can be used to connect a hard drive or to daisy-chain any FireStudio-family interface, including the StudioLive 16.4.2 digital mixer, allowing you to integrate the FireStudio Mobile into a larger system.
Universal Control
Like all members of the PreSonus FireStudio family (including the StudioLive 16.4.2 mixer), the FireStudio Mobile comes bundled with Universal Control software. Universal Control is a powerful, flexible, and easy-to-use control-panel application that allows you to daisy-chain to up to four FireStudio family devices for a maximum of up to 52 inputs and outputs (assuming your computer can handle that many tracks).
Gigabytes of Creative Resources
The FireStudio Mobile is bundled with an exceptional software package, featuring PreSonus Studio One Artist, the amazing new DAW software for Mac OS X and Windows XP and Vista that makes producing high-quality projects easier than ever before. As part of the Studio One Artist package, you get 20 new PreSonus Native Effects plug-ins and virtual instruments and a generous bundle of third-party loops, software, and instrument sounds.
Same Day Music is an authorized dealer of
PreSonus
products.