Same Day Music is an
authorized PreSonus dealer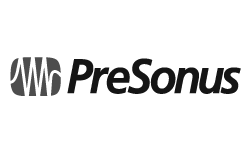 PreSonus Studio One is an integrated approach to recording music, from tracking to mixing to mastering and distribution. It's a creative environment built for intuitive use, speed, and efficiency-and yet it's robust enough for the most complex productions.
Two years ago, PreSonus launched Studio One with the promise that artists of all levels, from beginner to seasoned professional, would find Studio One a serious alternative to the intimidating, bloated offerings currently considered the standards. Since then, Studio One has won multiple prestigious awards, reviewers have praised it to the skies, PreSonus' Studio One forum has been buzzing with ideas, and musicians, producers, and engineers have flocked to PreSonus' amazing DAW in large numbers.
The reasons are simple: Studio One lets them work quickly and efficiently and delivers the features they need and the impeccable audio quality they demand. When you can work faster, more creatively, and more effortlessly, making music is even more fun.
How Studio One was Born (the Inside Story)
PreSonus had a clear and simple goal: Wipe the slate clean and apply decades of collective software and hardware experience to bring the DAW back to the musician and producer. After years of development by some of the world's finest programmers, followed by two years of free updates to Studio One 1.x, PreSonus are proud to offer Studio One Artist 2, Studio One Producer 2, and Studio One Professional 2.
Next-Generation Audio Engine Under the Hood
Studio One employs a state-of-the-art audio engine that delivers incredibly clear, accurate sound. Studio One Professional features a 64-bit floating-point version of this audio engine that automatically switches between 64- and 32-bit operation on the fly to accommodate 32-bit plug-ins. This means you always get the highest possible sound quality and blazing speed. Studio One Artist and Studio One Producer feature the same audio engine but it always operates in 32-bit mode.
Compatible and Easy to Configure
Studio One is compatible with any ASIO-, Windows Audio-, or Core Audio-compliant audio interface, including, of course, the entire line of PreSonus interfaces.
Studio One Artist
Studio One Artist delivers the entire core audio and MIDI recording and editing features, plus a wealth of 32-bit effects plug-ins and virtual instruments. Unlike other "entry-level" DAWs, it imposes no limits on track count and plug-in instantiations, or editing features.
Studio One 2.0.4 adds the Exchange
A community hub for sharing user-created content
PreSonus Exchange is a community hub for sharing user-created content. All registered Studio One users have access and can upload to and download from the Exchange. Instrument and effects presets, FX Chains, Soundsets, and much more are easily shared, with user ratings and comments showing the way to the best content the community has to offer.
Best of all, there's no need to leave Studio One to visit the Exchange. Open the File Browser, click on the Exchange server, and all of the content is at your fingertips, with audio preview. When you find something great, just drag-and-drop, and Exchange automatically downloads the resources and loads them into your Song.
Soundset Builder
All of the bundled content provided by PreSonus has come in the form of Sound Sets. Now, they are giving users a free tool to create their own Soundsets for distribution to all other registered users through the Exchange via an extension called Sound Set Builder. This extension is now available to all registered Studio One users for immediate download from the Exchange.
With Sound Set Builder, any folder in the file browser can be made into a Studio One Sound Set, complete with a name, description, icon, and URL. This is an excellent way to create and share packages of content, including audio loops, MIDI loops, presets, and more. Sound Set Builder installs into Studio One quickly and easily by drag-and-drop.
Features:
- Elegant single-window work environment
- Powerful drag-and-drop functionality
- Unlimited audio tracks, MIDI tracks, virtual instruments, buses, and FX channels
- Folder Tracks with Grouping and Busing
- Track List with presets and Mix Console link
- Content browser with search, user tabs, and preview player
- Single and multitrack comping
- Transient detection and editing with groove templates
- Drag-and-drop groove extraction
- Multitrack MIDI editing
- Track Transform (advanced freezing capability)
- Automatic delay compensation
- Advanced automation
- Easy-to-use sidechain routing
- Four stunning virtual instruments
- Most intuitive MIDI-mapping system available
- Real-time audio timestretching and resampling
- Compatible with any ASIO-, Windows Audio-, or Core Audio-compliant audio interface
- Works with key commands from Pro Tools, Cubase, and Logic-or create your own key commands
- Integrated Melodyne pitch correction (Trial version)
- 32-bit audio processing
- 26 Native Effects plug-ins, including improved Ampire XT amp modeling, Dual Pan, and Tone Generator
Same Day Music is an authorized dealer of
PreSonus
products.