Same Day Music is an
authorized QSC dealer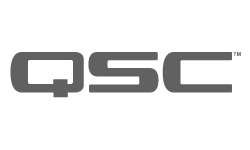 The QSC KLA12 is a SOLO Rigging System Housed in a rugged ABS enclosure that results in both light weight and long-term durability, the KLA12 features a 12-inch low frequency transducer coupled with a 1.75-inch compression driver. Designed to be used exclusively as a fixed arcuate line array, each KLA12 is set at a 90* horizontal by 18* vertical splay angle, allowing 90* vertical coverage arrays to be configured using only five boxes (most other solutions require six).
KLA's unique self-contained SOLO(tm) (Single-Operator Logistics) Rigging System enables users to quickly assemble (and disassemble) the line array in a fraction of the time without the need for special tools or external hardware.
The KLA12 Ar-Q(tm) (Arcuate Equalization) processing enables users to quickly tune the array, making appropriate frequency compensation adjustments based on the number of boxes. With the click of a dial, the user can select the total number of boxes deployed in the array resulting in an evenly balanced and accurate tonal curve. QSC's proprietary Intrinsic Correction(tm), first introduced with the WideLine(tm) Series, actively adjusts time, frequency and amplitude response to achieve a maximally flat bandpass target.
KLA Series
The KLA Series brings the power and sophistication of a line array system into an easy-to-use product significantly redefining the line array product category. With its simple Lift, Click and Play approach, KLA can be deployed in a fraction of the time required by comparable line array products.
This fixed arcuate, active line array system is ideal for a wide range of portable and permanently installed applications ranging from live entertainment to houses of worship or other venues where a line array system is desired.
KLA Power Module
The KLA Series is comprised of two models, the KLA12 12-inch, 2-way loudspeaker and the KLA181 18-inch subwoofer. The KLA12 features a highly efficient 500 watt by 500 watt power amp. KLA12 Power Module module and the KLA181 offers the same highly efficient power amp module in a 1,000 watt configuration. This efficient design enables up to five KLA models (any combination of KLA12 and KLA181) to be driven off of a single 15 amp, 120 volt electrical circuit.
KLA loudspeakers incorporate QSC's DEEP(tm) DSP algorithm - providing extended bass response by actively managing potentially damaging low-frequency transients - and GuardRail(tm) circuitry protection which prevents the amplifier module from unnatural and destructive clipping.
As an energy saving feature, the Auto Standby mode automatically engages after five minutes of inactivity but upon resumption of audio signal, the power module on the KLA will awaken instantly for immediate output.
In an installed application, multiple KLA Series loudspeakers can be "daisy-chained" for total gain control from a single remote pot wired to the on-board Phoenix-style connector. Additional power module characteristics on KLA include a balanced, line-level XLR input in parallel with an XLR "Thru" connector, PowerCon(tm) In and Thru connectors, Attenuation Control and LED indicators for Signal, Limit, Power and Standby status.
Features
- 500 W x 500 W power module
- Rugged, ABS enclosure delivers light-weight durability
- SOLO Rigging System supports deployment without tools or external hardware
- Ar-Q Frequency Optimization quickly tunes the array with the click of a dial, adjusting for the appropriate number of boxes
- 10:1 design factor supports arrays of up to 480 lbs. (218 kg) 5 x KLA12 and 2 x KLA181
- 90* x 18* nominal coverage (requires only five boxes to configure a 90* x 90* array)
- High power, 12" low frequency driver provides extension down to 44Hz without subwoofers
- Extensive DSP further enhances and protects performance
- 1.75" diaphragm compression driver delivers clear and powerful high-frequency reproduction
- powerCON(R) Input and Thru connections
- Tilt-Direct(TM) pole mount assists directivity in single-unit applications
Same Day Music is an authorized dealer of
QSC
products.
Frequency Range (-10 dB): 44 Hz – 20 kHz
Nominal Coverage (-6 dB): 90 x 18 degree
Output 1 (Peak SPL @ 1M): 131 dB
Amplifier Power: 500 W x 500 W continuous
Current Consumption, 1/8 Power squared: 100 VAC, 2.3 A / 120 VAC, 2.01 A / 230 VAC, 1.13 A
Transducers: 12" cone transducer, 1.75" diaphragm compression driver
Input Connectors: Balanced female XLR line level input
Enclosure: Impact-resistant ABS
Net Weight: 55 lbs / 25.0 kg
Pole Socket Size: 1-3/8" (35 mm)
Same Day Music is an authorized dealer of
QSC
products.
Shipping Weights and Dimensions

Shipping Weight: 67 lbs
Shipping Dimensions: 27 x 21 x 18 in