Same Day Music is an
authorized QSC dealer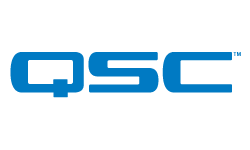 Building on the success of QSC's K Series, the KW112 represents the next evolutionary step in wood enclosure loudspeakers. QSC system engineers have created the KW112 to feature all the groundbreaking electronic attributes of our popular K Series while at the same time designing a product that is both smaller and significantly lighter than previous wood enclosure models.
QSC KW112 Features
- K Series performance in a lightweight, birch design
- 1000 watt Class D power modules in all models (2 x 500 W)
- Extensive DSP featuring DEEP(TM) and Intrinsic Correction(TM) enhances system performance
- DMT (TM) (Directivity Matched Transition) ensures uniform coverage across the entire sound field
- Rugged, texture-painted birch enclosures
- Four-position Mic/Line gain (full-range models)
- Tour-grade 16 gauge steel grilles
- Comfortable ergonomic handles
- 35 mm pole sockets with Tilt-Direct (TM)
- M10 rigging points for suspended installation (full-range models)
- KW122 also functions as stage monitor
QSC KW112: High Output
Like K Series, each of the four KW112 models features a QSC designed, 1000 watt (2 x 500) Class D power module. And continuing in the K Series tradition, every model is fitted with the identical high-output 1.75" HF device (full-range models) and woofers of the same high quality design, regardless of speaker size.
QSC KW112 Defined Coverage Area
Directivity Matched Transition (DMT(TM)) provides for matched LF and HF coverage across the entire listening area, eliminating unnatural "dead" or "hot" frequency zones.
DSP in the QSC KW112
Extensive signal processing is employed throughout, providing levels of sonic clarity and total output that defy all expectations for a product in this category:
Intrinsic Correction(TM), first featured in our high-end line array products maps 65-75 spatially-averaged measurements to IIR and FIR filters that actively adjust time, frequency and amplitude response to a maximally flat bandpass target. The result is a speaker that behaves equally well across the entire sound field.
DEEP(TM) and excursion limiting allow for extended low-frequency response by actively managing low-frequency transients without degradation of the underlying signal or adjacent frequencies.
GuardRail(TM) protection, first introduced on our GX Series amplifiers protects both the amplifier module and your performance from unnatural and destructive clipping.
QSC KW112 Connectivity
The KW112 features a four-position mic / line gain switch that allows for connection of a wide variety of devices. Combo XLR and 1/4" TRS inputs accept both mic and line level input while a set of RCA phono inputs allow additional connectivity to portable MP3 players, CD players and line-level mixers. Up to three audio sources can be mixed internally and summed to a balanced output for "daisy-chaining" of multiple units. Separate direct outputs are also provided on each channel for additional output flexibility.
QSC KW112 Control
On-board switches provide preset EQ settings. The HF setting (full-range models) can be set to VOCAL BOOST for additional presence in the critical mid-frequency area or FLAT for accurate reproduction of the incoming signal. The LF switch can be set to NORM, DEEP(TM) for additional bass extension, or EXT SUB (full-range models) for use with an external subwoofer. The rear panel LED switch can be set to POWER, illuminating the front-mounted LED when the unit is powered on, OFF for applications where it is not desirable to illuminate the front LED, or LIMIT which indicates to the system operator that the clip limiter circuit has been engaged during operation.
Tilt-Direct(TM) in the QSC KW112
The KW122 features a unique Tilt-Direct(TM) pole cup mounting system. A simple turn of the dial engages a 7.5 degree downward tilt of the speaker allowing acoustic energy to be kept on the audience and off reflective surfaces for applications where maximum coverage from a high-positioned speaker is desired.
QSC KW112 Remote Gain
Remote gain control capability is offered via a potentiometer (not included) connected to the on-board Phoenix-Style connector. In an installed application, multiple KW112 speakers can be "daisy-chained" for total gain control from a single remote pot. Auto-standby mode is engaged after 5 minutes of inactivity.
Premium-grade materials in the QSC KW112
The KW112 is designed to withstand the rigors of professional use. Advanced construction processes, premium-grade Baltic birch cabinetry, ergonomic, cast aluminum handles, and a highly protective steel grille provide for ease of transport and long term durability. Integrated M10 suspension points allow for flown applications with a KW M10 KIT (sold separately).
Same Day Music is an authorized dealer of
QSC
products.
Configuration: 12 inch, 2 way multipurpose
Transducers:
- Low Frequency: 12 inch cone transducer
- High Frequency: 1.75 inch diaphragm compression driver
- Frequency Response (-6 dB): 53 Hz - 18 kHz
- Frequency Range (-10 dB): 50 Hz - 20 kHz
- Nominal Coverage (-6 dB): 75 degrees axisymmetric
- Maximum SPL (1 meter): 131 dB peak
- Power Output: 1000 watts Class D
Connectors:
- Balanced female XLR / inch line/mic level input
- Balanced female XLR / inch line/mic level input
- Dual Balanced male XLR full range line level out
- Balanced male XLR mix out
- Stereo RCA line level input
- Remote gain control
- Locking IEC power connector
- Material: 15 mm painted birch plywood
- Grille: Black powder coated 16 gauge steel
- Pole Socket Size: 1-3/8" (35 mm)
- Dimensions (HxWxD): 26 x 15 x 15.4 inches (660 x 381 x 391 mm)
- Weight: 49 pounds
Same Day Music is an authorized dealer of
QSC
products.
Shipping Weights and Dimensions

Base Item

Shipping Weight: 65 lbs
Shipping Dimensions: 29 x 21 x 20 in