Same Day Music is an
authorized QSC dealer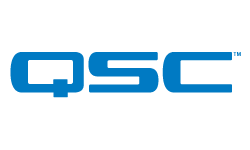 The QSC PLX1804 power amplifier is part of QSC's PLX Series -- a range of premium-quality, high-power amplifiers designed for the most demanding live performance uses. Built on the third generation of QSC PowerLight technology, PLX1804 amplifiers combine light weight, superlative audio quality and proven QSC reliability.
Features:
- Cooling design exhausts hot air out the front, keeping the rack cool
- Flow-through heat sinks require no filters that could become clogged
- Front panel LED power, clip, -10 dB, and signal present indicators for system monitoring and troubleshooting
-Speakon NL-4 output connectors provide a positive-locking speaker connection. Ch 1 output uses all - 4 wires for single-cable connection to bi-amplified speakers
- 21-position front-panel gain controls for precise, repeatable amplifier adjustment
- Balanced XLR inputs with parallel TRS connectors accommodate all common input connectors and support loop-through operation
- Patented PowerLight power supply technology with other patents pending
PLX2 Performance
The compact PLX1804 brings the same performance and technology of the PLX "02" models to applications that don't require bridged or 2 ohm operation. Designed to power 1 or 2 speakers from each amplifier channel (4 ohm minimum loading), this models offer a simplified feature set while retaining genuine, uncompromising PLX performance and technology. Weighing just 13 pounds (5.9 kg), these "plug-and-play" amplifiers are perfect for ultra-portable rigs, as well as reference-quality playback.
Mechanical
The PLX1804 amplifier has the refined, rugged good looks usually associated with high performance racing cars, competition bikes, professional power tools, and high power machinery. A solid, cast-aluminum front panel adds professional style to any rack while also acting as an integral I-beam, rigidly tying the chassis together for years of on-the-road reliability.
Additional mechanical touches such as the side stiffening rails, rear rack ears and cable tie anchor points attest to QSC's years of experience and attention to detail. QSC has even designed the integrated front handles so the amplifier slides into a rack without scraping the installers fingers on the rack sides. The exterior appearance of the PLX1804 amplifier conveys what's inside -- simply and truly, 13 pounds of the most advanced professional power amp on the planet.
PowerLight Technology
PowerLight switchmode technology replaces a large, heavy AC transformer (typically 20 lbs. / 9 kg) with a highly efficient and lighter-weight active design. Conventional AC transformers provide 60 energy pulses per second. The PowerLight supply delivers 100,000 pulses per second. More pulses make it easier to provide on-demand power for the amplifier's output section. The power supply doesn't "sag" so bass notes stay full and powerful while the high end remains crisp and clean.
Audio Quality
The audio power circuitry inside the PLX1804 achieves performance normally associated with studio reference amplifiers. In order to reduce crossover distortion, precision bias tracking makes minute adjustments as amplifier temperature changes. The benefit is cleaner high-frequency and more consistent sound no matter how hard the amplifier is driven. The higher power models use QSC-exclusive class H output circuitry, a form of audio "turbocharging" that increases maximum power without affecting the basic audio quality.
Same Day Music is an authorized dealer of
QSC
products.