Same Day Music is an
authorized QSC dealer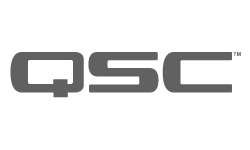 QSC's RMX series amplifiers give you clean, dynamic power with legendary QSC sound quality and reliability that pros depend on. QSC combined their rugged, high-output designs with the finest circuit technology to deliver unmatched performance at a breakthrough price. RMX amps have balanced XLR and 1/4" TRS inputs. Outputs include binding posts and Neutrik Speakon connections. These stereo power amps are only 2 rack spaces tall and 15.9 in. deep. Other features include ultra low distortion (.05% THD), a low-noise variable speed fan with rear-to-front air flow to keep your amplifier and racks cool, and selectable low-frequency filters to protect your speakers and increase headroom. QSC power amps are backed by a 3-year transferable warranty.
Muscular Power Plant
The power supply is the heart of an amplifier, converting raw AC power from the wall to clean DC for the audio circuitry. The RMX uses a powerful high-current toroidal transformer and ample filter capacitance to ensure generous energy reserves. This makes a critical difference in sound quality, allowing the amp to effortlessly punch out high level transients, even when driving abusive 2-ohm speaker loads.
Superior Performance
RMX amplifiers deliver true studio-quality sound. A full complementary output circuit using the highest-grade linear output devices delivers ultra-low distortion (<0.05% THD) & a ruler-flat frequency response. SMT (Surface Mount Technology) triples small-signal component density, enabling them to pack up to 2400 watts of power in a chassis only 2 rack spaces & less than 16" deep. And unlike other designs, RMX output devices are direct-mounted to the heat sink for optimum thermal coupling & cooling.
Features:
- The RMX 1850HD provides improved thermal performance that gives you higher continuous power in 2-ohms stereo or 4-ohms bridged applications (a RMX 1850HD exclusive!)
- Independent defeatable clip limiters reduce distortion without sacrificing peak performance.
- Selectable low-frequency filters boost system response, protect speakers and ensure low-end tightness by more precisely matching the amplifier's range to the loudspeakers.
- Barrier strip, XLR and 1/4 in. balanced inputs plus Speakon and binding post outputs provide easy connections.
- Low-noise variable speed fans with rear-to-front air flow keep amplifiers and racks cool.
Same Day Music is an authorized dealer of
QSC
products.
Continuous Power Output Wattage
360W per channel @ 8 ohms
600W/channel @ 4 ohms
900W/channel @ 2 ohms
1150W bridged mono @ 8 ohms
1800W bridged mono @ 4 ohms
Distortion (Typical):
20 Hz-20 kHz: 10 dB below rated power Less than 0.03% THD 4 and 8 ohms
1.0 kHz and below: full rated power Less than 0.03% THD 4 and 8 ohms
Frequency Response: 20 Hz-20 kHz, +/- 1 dB, -3 dB points: 5 Hz-50 kHz
Damping Factor, 1 kHz and below: Greater than 300 at 8 ohms
Input Impedance: 10 k ohms unbalanced, 20 k ohms balanced
Input Clipping: 10 Vrms (+22 dB)
Cooling: Continuously variable-speed fan, rear-to-front air flow
Connectors, each channel:
Input: Active balanced; barrier strip, XLR and 1/4" (6.3mm) TRS tip and XLR pin 2 positive
Output: touch-proof binding posts and Neutrik Speakon
Controls:
Front: AC switch, Ch. 1 and Ch. 2 gain knobs
Rear: 10-position DIP switch
Indicators:
Power On: Green LED
Signal: Yellow LED, 1 per channel
Clip: Red LED, 1 per channel
Amplifier Protection:
Full short circuit, open circuit, thermal, ultrasonic, and RF protection
Stable into reactive or mismatched loads
Load Protection: On/off muting, AC coupling (850, 1450), triac crowbar (2450, on each channel)
Dimensions: 19 in. (48.3 cm) rack mounting, 5.25 in. (8.9 cm) tall (3 rack spaces), 15.9 in. (40 cm) deep (rack mounting to rear support ears)
Power Requirements: 100, 120, 230 VAC, 50-60 Hz
Note: Register your new product online with QSC and receive a Free 6-Year Extended Warranty upgrade (a $99 value).
Same Day Music is an authorized dealer of
QSC
products.