Same Day Music is an
authorized Radial dealer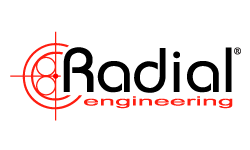 The Radial BigShot ABY is a compact ABY switcher that enables you to either switch between two amplifiers or combine the signal when you want both amps to play at the same time.
Designed for the purist, this true-bypass ABY switcher is completely passive, meaning that there are no tone-altering buffers in between the guitar and the amplifier. With the BigShot ABY, you get the pure tone from your guitar plugged direct into your amp! To add versatility, the BigShot ABY is also equipped with a separate tuner out. This 'always on' output feeds your tuner for constant monitoring while keeping it out of the signal chain. Should you experience hum and buzz problems due to ground loops, the BigShot ABY comes to the rescue with a built-in isolation transformer and ground lift switch. Once engaged, you can toggle the polarity of the second amplifier to ensure both amps play in absolute phase.
In use, the BigShot ABY is both simple to use and efficient on stage. When powered by an external 9V supply or pedalboard power brick, full size super-bright LEDs spring to life to provide instant on-stage amplifier status readout. When power is unavailable, the passive audio signal path still works, unaffected. The compact yet ultra-rugged design makes the BigShot ABY ideal for pedalboards where space is always at a premium.
Combine two amps and a tuner
The BigShot ABY makes it easy to switch between two amps. With the built-in isolation transformer, hum and buzz caused by ground loops can be eliminated. A separate tuner out keeps this tone altering device out of the main signal path.
Use the BigShot ABY to mute your amp
You can use the BigShot ABY as a simple mute footswitch for quiet on-stage tuning. Simply depress the AB selector switch and the signal going to the amp is turned off. This keeps the signal going to the tuner output always on, allowing you to tune without bothering others.
Use the ABY to switch channels to an amp
The BigShot ABY can also be used to switch channels on older vintage amps that do not have remote switching. Simply send the OUT-A and OUT-B to the two channels on your amp and select channels as needed.
Features:
- True-bypass ABY amp selector with LED indicators
- On-board transformer to eliminate hum & buzz
- 180-degree polarity reverse to phase-match amps
- 100% passive audio path -- does not require power
Same Day Music is an authorized dealer of
Radial
products.
Circuit Type: Passive true-bypass
Tuner Output: Yes -- always-on tuner out
Transformer: Radial special design 1:1 isolation transformer
Ch-A/B Isolation: Yes -- ISO switch on Output-B
Ground Lift: Yes -- LIFT switch on Output-B
Phase Reversal: Yes -- 180 degree phase switch on Output-B
Footswitches:
Heavy-duty high-cycle :
A - B -- toggles between A or B
BOTH -- both channels or one
Construction: 14 gauge steel, baked enamel finish
Size: 3.6 in. w x 3.9 in. d x 2 in. h (92 x 99 x 51mm)
Weight: 1.25 lbs. (0.56 kg)
Warranty: Radial 3-year limited warranty
Warning -- Possibility of electrical shock hazard exists. Please read the warnings in the user manual before attempting to connect amplifiers to this device.
Same Day Music is an authorized dealer of
Radial
products.
Shipping Weights and Dimensions

Base Item

Shipping Weight: 2 lbs
Shipping Dimensions: 7 x 4 x 3 in