Same Day Music is an
authorized Radial dealer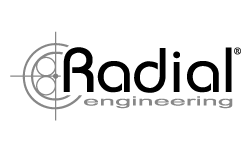 The Radial BigShot i/o is an easy to use instrument selector switch that lets you quickly transition between any two instruments and drive the signal to your amp. Because the i/o is 100% true-bypass, it addresses the needs of the most demanding purist.
To further enhance connectivity, input-B is equipped with a level control called Dim that lets you reduce the signal from the louder of your 2 instruments so that both instruments are matched to the same volume level when they reach the amplifier. When passive instruments are used, a unique "bright" switch lets you compensate for high frequency loss due to longer cables.
To enhance on-stage functionality, the BigShot i/o is equipped with a tuner output. With a simple foot stomp on the Mute switch, the sound going to the amp is turned off and diverted to the tuner for quiet on-stage adjustments. An "always on" switch also permits on-the-fly quiet tuning should you wish to have the tuner on at all times.
Compact, extremely rugged and completely passive, the BigShot i/o does not require any powering to make it work. This makes it ideal for pedalboards where the use of batteries or power supplies is painful! The BigShot i/o is also perfect for all you instruments and hi-Z line-level signal switching.
Features:
Toggle two instruments with single foot stomp
Adjustable volume control to match levels
Separate tuner output and mute switch
Compact and rugged for pedalboards
Load compensation for long cables
2 Electric Guitars and Tuner Setup
This setup lets you select between 2 electric guitars with the right footswitch and mute the output with the left footswitch for instrument switching and quick tune-ups. The tuner output can be switched off for a pristine true-bypass audio path.
2 Electric Basses and Tuner Setup
Two electric basses, 1 active, 1 passive are easily set up for on-the-fly changes. The top-end loss from the use of a longer cable for the stand-up bass is compensated for with the 2-position "Bright" switch.
Acoustic and Electric with Tuner Setup
Here, switching between an acoustic guitar and an electric is made easy. Perfect for varied sets that require quick changes. The BigShot i/o's "Dim" switch and level control easily tames the higher output of the acoustic guitar's active preamp.
BigShot I/O Development
Today, it is just as normal to see a bass player with 2 basses on stage as it is to see a guitarist with 2 guitars. This is done not only for tuning purposes but also to provide greater tonal range. For example, a passive Fender Jazz Bass sounds very different from a Yamaha active 6-string bass, just as a Stratocaster sounds very different from a Les Paul.
The challenge for the musician has always been to change instruments quickly and elegantly. Rock stars have full-time guitar technicians to help them change instruments. For the everyone else though, changing an instrument on stage has always required muting the amp, disconnecting one guitar and reconnecting the other, re-setting instrument level, etc.
Another major annoyance has been in dealing with tuners. Anyone who has carefully listened to the effect of a tuner on the guitar signal knows that unless the tuner is completely taken out of the signal path, it causes the tone to change due to loading. This is why the true-bypass purist has always resisted having any kind of buffer between his guitar and the amp.
The BigShot i/o addresses these concerns by providing a compact switcher that is extremely easy to set up and use that is built tough enough to take the constant abuses of road use.
BigShot I/O Audio Path
Connect your 2 instruments to inputs 1 and 2. To add versatility, input-2 is outfitted with a function called Dim that lets you engage a volume control to reduce the level from the instrument connected to input-2. Input-2 should be used for the louder of the 2 instruments. For instance, a passive bass would connect to input-1 while the active bass would connect to input-2. Depressing the "Toggle" footswitch lets you switch between the 2 inputs. Pressing the "Mute" footwitch stops all output to the amp, making it easy to switch instruments or tune up completely silently.
Using the BigShot I/O
Keep in mind that the i/o is completely passive and therefore requires no power or battery. This also means that it will not boost a signal. Input-2's Dim control could be used to reduce the level from an acoustic guitar with built in preamp, or active bass that would otherwise be much louder than their passive counterparts.
In instances when using 2 passive instruments such as maybe a Fender Strat with single coil pickups and a Les Paul with humbuckers, the single coil pickups will not be as loud as the humbuckers. This effect is often desirable and therefore, the Dim would not be used. If however you had your system set in such a way that you would want both at the same level such as during a direct recording session, you would engage the Dim and introduce the bright switch to offset the effect of the potentiometer. The BigShot i/o is designed to suit both true bypass purists and multi-instrumentalists alike.
The BigShot i/o is also equipped with 2 outputs. One is designed for a tuner while the other would go to your amplifier. When the Mute footswitch is depressed the output going to the amp is shut off to allow quiet tuning on stage. A selector switch allows the tuner to either be on all the time or be toggled so that it is only active when the footswitch is depressed. Some tuners introduce clicking noise from their quartz clock or can load down the guitar signal. For the purist, toggling the tuner when needed is preferred.
Using the I/O as an A or B Switcher
The BigShot i/o can also be used as a A-B amp selector by using the tuner and MUTE switch to toggle between the amp output and the tuner out. As there are no ground lift or isolation features, the i/o will not be as flexible as the BigShot ABY or the Switchbone, but certainly perform as well as all other passive AB switchers on the market.
Same Day Music is an authorized dealer of
Radial
products.
Circuit Type: Passive true-bypass
Tuner Output: Yes -- switched tuner output
Attenuation: Yes -- adjustable level control on Input-2
Tone Compensation: 3-position Bright switch on Input-2:
- Off
- Bright-1
- Bright-2
Footswitches:
Heavy-duty high-cycle:
Toggle -- switches In-1 or In-2
Mute -- mutes output
Construction: 14 gauge steel, baked enamel finish
Size: 3.6 in. w x 3.9 in. d x 2 in. h (92 x 99 x 51mm)
Weight: 1.25 lbs. (0.56 kg)
Warranty: Radial 3-year limited warranty
Warning -- Possibility of electrical shock hazard exists. Please read the warnings in the user manual before attempting to connect amplifiers to this device.
Same Day Music is an authorized dealer of
Radial
products.