Same Day Music is an
authorized Radial dealer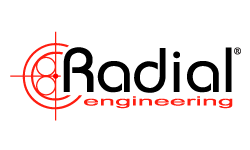 The Radial Firefly is a high output tube direct box designed for stage and studio. It combines Radial's award winning zero negative feedback class-A front end with the warmth and character of a 12AX7 tube drive circuit and Radial's legendary transformer coupled output.
The Firefly features A and B instrument inputs with easy access level controls to accelerate instrument changes on stage. This enables the artist to switch between two different instruments and deliver a consistent signal to the PA system and on-stage amp. Switching can be done via the front panel or with the optional JR2 remote control. This connects to the Firefly using a balanced cable and adds a mute function for quiet on-stage adjustments.
To optimize performance with electric bass, the Firefly is equipped with Drag Control(TM) load correction that lets you adjust the load on a magnetic pickup so that it 'feels' as if connected to a tube amplifier. For 'fussy' piezo transducers, Drag can be bypassed to increase the input impedance to 4 meg-ohms to eliminate the squawk and peaks that plague these types of pickups. A fully variable high-pass filter may be dialed in to eliminate low frequency resonance that can cause feedback on stage or muddy sound when recording.
The rear panel offers two stacked 1/4-inch instrument, A and B-INPUTS, and a THRU output for the on-stage amp. The THRU offers a choice of pre or post tube configuration. Additionally a TRS insert jack enables external effects to be shared between both inputs. A buffered 'always on' tuner output can be used to split the instrument signal in the studio or it can be dedicated to an electronic tuner. The tuner output can be used for silent tuning when the optional JR2 remote is connected. The balanced XLR output is equipped with a ground lift switch to help eliminate buzz and hum caused by ground loops and a 180-degree polarity reverse to tame feedback hot spots on stage or help phase align the PA system with the on-stage amp.
The Firefly combines the warmth, character, and feel of a vintage tube device with the low noise and performance of today's most advance audio technology.
Switching between passive and active basses
The Firefly is equipped with two inputs and level controls to make switching between active and passive basses easy. Add the JR2 remote control for added switching convenience.
Firefly with an acoustic guitar and mandolin
The Firefly is perfectly suited for using two acoustic instruments. The 4 meg-ohm piezo input enables direct connection without a preamp.
Using the Firefly with an upright bass
Whether you are connecting via a pickup/preamp combination, or just direct from the passive piezo, the Firefly is perfect for string instruments. Use the variable high-pass filter to eliminate low frequency resonance and feedback.
Features:
- Class-A front end drives 12AX7 tube stage
- Two inputs with separate gain and remote switching
- Drag Control load correction for optimal tone
- Variable high-pass filter to eliminate resonance
Same Day Music is an authorized dealer of
Radial
products.
- Audio circuit type 100% discrete class-A FET with tube drive
- Frequency response: 20Hz ~ 20kHz
- Gain: 20dB (Maximum)
- Signal to noise ratio: 85dB @ +4dB
- Dynamic range: >100dB
- Noise floor: -98dB at unity gain
- Equivalent input noise (EIN): -101dB
- Maximum input: Variable from -12dB ~ +20dB
- Total harmonic distortion: 0.15% from 20Hz ~ 20kHz
- Inter-modulation distortion: 0.3%
- Inter-modulation distortion: 0.3%
- Input impedance - Drag On: Variable 22k ~ 500k
- Input impedance - Drag Off: 3.9 meg-Ohm
- Output impedance: 150Ohm (nominal)
- Inputs: Selectable A or B with standard hi-Z 1/4" connectors
- Input pad: Variable
- Mute: All outputs except tuner, requires JR2 footswitch
- Low-cut filter: Variable from 5Hz ~ 500Hz @-3dB
- Low-cut filter: Variable from 5Hz ~ 500Hz @-3dB
- Drag Control: Load correction fro magnetic pickups
- Aux output: Hi-Z buffered, pre or post tube and effects insert loop
- Insert loop: 1/4" TRS insert wired tip-send, ring-return
- Polarity: 180*
- Ground lift: Pin-1 at the XLR
- XLR configuration: AES standard: pin-1 ground, pin-2 (+), pin-3 (-)
- Power: 5-pin XLR, +/-16V and 48V, 1600mA
- Construction: 14 guage steel, baked enamel finish
- Size: 5.75" x 8.25" x 1.75" (2.75" with handle) 146mm x 210mm x 45mm (70mm with handle)
- Weight: 3.95lbs. (1.80kg)
- FCC approval Complies with section 15 of the FCC Rules
- Warranty: 3 years, transferable
- Click Here for Graph Guide
Same Day Music is an authorized dealer of
Radial
products.