Same Day Music is an
authorized Radial dealer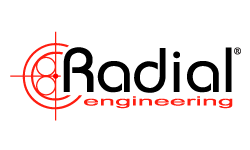 The HotShot ABi is a balanced signal source selector that allows the user to instantly select between 2 signal sources by depressing a latching footswitch. As it is completely passive, powering is not required to make it work.
The HotShot ABi is ideal for applications such as switching between 2 dynamic microphones on a stage or selecting between 2 audio sources. The latching switch also opens the door for other useful operations: These include using the HotShot ABi as a mute to turn off a microphone; to select between 2 wireless receivers for live sound system backup; for stereo guitars it can be used to select between 2 instruments; and for community hall assemblies, it provides the moderator with remote control over 2 audience microphones.
Ultra-compact and extremely rugged, the HotShot is made tough for years of trouble free performance and is backed-up with a 3-year transferable warranty.
Features:
On-stage line input signal AB redirector
Toggle switch for one-push operation
Pads allow using devices with different signal levels
Ground lift to eliminate buzz caused by ground loops
Heavy-duty construction, switches and components
Select Between 2 Mics on Stage
Use the ABi to select between 2 mics on stage! Great for multi-instrumentalists that may require a mic over a keyboard and another when playing guitar.
Select Between 2 Sources
Use the ABi to select between a iPod and a computer for audio visual presentations. Easy to use with balanced and unbalanced signals and can be made to work with unbalanced stereo signals with shared grounds.
Select Between "On" and "Mute"
In its simplest form, use the ABi as a mute foot switch to allow the entertainer to clear his throat or cough without the offensive sounds reaching the audience. Furthermore, by reducing the number of mics that are 'active' on stage, one can significantly reduce the spill and leakage; the most common cause of stage feedback.
HotShot(TM) ABi In Detail
The HotShot ABi is a multi-purpose performance tool that is designed to allow simple on-off and diversion control over signal management. It is outfitted with various features such as grounding options and level adjustments to conform to a wide variety of applications.
Critical to its performance is the rugged 14 gauge steel construction and ultra-compact footprint. This enables the HotShot ABi to be used in the most demanding professional applications while assuring years of trouble free performance.
Warning -- Possibility of electrical shock hazard exists. Please read the warnings in the user manual before attempting to connect amplifiers to this device.
Same Day Music is an authorized dealer of
Radial
products.
Circuit Type: Passive true-bypass
Inputs: XLR-F x 2
Outputs: XLR-M
Input Pads:
Input-A: -15dB switch
Input-B: -15dB switch, -6dB 'trim' switch
Ground Lift: LIFT switch - Input-B pin-1
Footswitch: Heavy-duty high-cycle
Construction: 14 gauge steel, baked enamel finish
Size: 3.6 in. w x 3.75 in. d x 2 in. h (92 x 99 x 51mm)
Weight: 1.1 lbs. (0.5 kg)
Warranty: Radial 3-year limited warranty
Same Day Music is an authorized dealer of
Radial
products.
Shipping Weights and Dimensions

Base Item

Shipping Weight: 2 lbs
Shipping Dimensions: 7 x 4 x 3 in