Same Day Music is an
authorized Radial dealer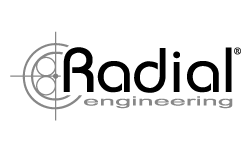 The Radial JDX Reactor is a direct box designed to capture the explosive dynamics and warm tone of the electric guitar by connecting between the head and cabinet of a guitar amplifier to provide a direct feed to the PA or recording system.
In use, the JDX improves on the consistency of the guitar signal over a typical microphone, as irregularities of mic placement and varying acoustics no longer play the dominant role on stage. When combined with a microphone, fatter tones can be created by double tracking and stereo imaging the two signals for more 'produced' results.
The Radial JDX Reactor is an easy to use interface with a sophisticated internal signal path that includes 100% discreet components, Radial's highly acclaimed class-A signal buffering, transformer isolation and a series of speaker emulating filters. On board functions include input connection from the amplifier head and throughput connection to the speaker cabinet. A ground lift switch allows the engineer to disconnect the earth ground from the mixing console. A polarity reverse is also offered that can be used to phase correct the output when run through stage monitors or simply interface with older gear that may not follow the current AES standard. The Radial JDX is transformer isolated to help eliminate buzz and hum caused by ground loops.
Housed in a 14 gauge enclosure, the JDX features an internal I-beam construction to reduce susceptibility of outside stress that could torque the circuit board and reduce long term performance of the switches and jacks. Two protective zones are created with a unique book-end design that keeps switches and jacks out of harms way. Finally, a full bottom no-slip rubberized pad keeps the JDX from sliding around on busy stages and from falling off ye old Marshall stack when played at 11. The JDX may be rack mounted with a Radial J-Rak or permanently mounted on the rear panel of an amplifier or inside a rack using the Radial J-Clamp.
Features:
- Guitar amplifier direct box with reactive load
- Speaker cabinet emulation for natural tone
- Direct feed to console eliminates need for a mic
- Ideal for recording and live performance
Usage Examples:
Using the JDX with an amplifier:
The Radial JDX connects between the head and cabinet with a balanced feed going to the PA. This set up eliminates the use of a microphone on stage, reducing clutter while providing the mixing engineer with a consistent tone independent of room acoustics, mic placement or bleed from other sound sources.
Combining the JDX with a microphone:
The JDX is connected as described above but a microphone is added for a second channel. The two sounds are then mixed together or spread 'stereo' to create a fatter tone. This setup is often used in the studio to create 'produced' tones.
Using the JDX with a Mic and a Radial Phazer:
The magic of the JDX is fully revealed when combining the JDX's direct feed with a microphone while incorporating the Radial Phazer to phase-align the two signals. This combination lets you dial-in the 'sweet spot' to produce fat rich guitar tones quickly. This is of particular advantage to touring bands that must set up quickly between gigs as they travel from one venue to another.
Same Day Music is an authorized dealer of
Radial
products.
Signal type: Class-A, 100% discrete
Speaker emulation: Proprietary band pass filtering with reactive load
Input level: Maximum 300 Watts
Output: 600 Ohm electronically balanced
Total Harmonic Distortion: 0.005 % @ 1kHz
Power supply: 15VDC 400mA, power supply included
Construction: 14 gauge steel chassis and outer shell, baked enamel finish
Size (TX and RX)(W x D x H): 3.3 x 5.0 x 1.875 in., (84 x 127 x 48mm)
Weight: 1.55 lb (720 g)
Warranty: Radial 3-year, transferable
NOTE - THE JDX IS NOT A LOAD BOX
A speaker or equivalent load must be connected to the JDX at all times during use.
Same Day Music is an authorized dealer of
Radial
products.