Same Day Music is an
authorized Radial dealer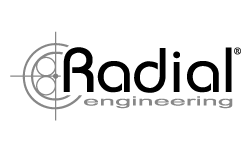 Designed to be used with the Radial JDX, the Phazer allows you to phase align the direct feed coming from the JDX with the sound of the microphone so that you can find the sweet-spot. Completely analogue and 100% discreet class-A throughout for a full rich tone, the Phazer is a compact desk-top device that connects via the channel insert on the mixing console. Great for bass, keyboards, and guitars; in fact the Phazer is a "must have" when doubling any instrument in an acoustical space.
Since Radial Phazer is a 100% discreet class-A analogue phase control it allows two sound sources such as a microphone and direct feed to be combined by time-correcting the two sources and finding the sweet spot to create bigger and fatter tones. The Phazer can be inserted in series with any line level device and can also be connected via the insert bus using fully balanced XLR cables.
The Phazer's compact table-top form features a protective zone around the knob and switches. These include in-out select, 180 degree rotational control, 180 degree polarity flip for full 360 degree phase adjustment, and ground lift switch to eliminate hum & buzz caused by ground loops and effect bypass. Rear panel connections are +4dB balanced line level XLR for professional use.
As with all Radial direct boxes, the Phazer features welded 14 gauge steel construction and a unique I-beam internal frame to ensure years of trouble free performance, even when subjected to the harsh reality of concert touring. A full bottom no-slip rubber pad is provided that at once reduces the chance for the Phazer from falling off your Midas, while also providing electrical insulation from any actively charged chassis. Comes with 3-year transferable warranty.
Same Day Music is an authorized dealer of
Radial
products.