Same Day Music is an
authorized Radial dealer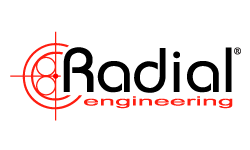 The Radial PowerTube is an 'old school' 100% discrete class-A vacuum tube microphone amplifier intended to capture the essence of the voice or instrument while adding the rich harmonics, warmth, and character of a transformer coupled tube circuit.
Designed to fit inside the Radial Workhorse and other 500 series racks, the 'single-wide' PowerTube begins with an ultra low-noise Jensen input transformer. This exhibits near perfect frequency response while producing the warm Bessel curve Jensen is legendary for. The signal is then amplified via a select 12AX7 tube using an innovative non-radiating charge pump that supplies 140 volts to the tube to deliver the excitement and character of a high-voltage vintage tube amplifier. This feeds a class-A balanced output stage that together, can produce as much as 60dB of gain. This makes the PowerTube ideal for use with all microphones.
Features include an easy-access front panel XLR input with a safely recessed 48V phantom power switch. To optimize signal-to-noise the PowerTube is equipped with fully variable trim and gain controls. A 10 segment LED bar graph provides visual feedback and driving the PowerTube into the red is encouraged. This increases the grit, harmonic content and distortion. For even more character, activating the Air adds a slight edge to a male vocal or sparkle on an acoustic guitar. Low frequency resonance is easily tamed using the high-pass filter. For added pleasure, the PowerTube comes factory-loaded with a select 12AX7 tube along with a second Tonebone distortion pedal tube for more grit and madness.
The Radial PowerTube...the true character of a world class vintage tube preamp without the noise.
Features:
- High voltage 12AX7 tube drive with 60dB of gain
- Smooth sounding Jensen Transformer input
- Hand inserted 100% discrete class-A electronics
- Single wide module fits all 500 series rack formats
Same Day Music is an authorized dealer of
Radial
products.
Microphone Input:
- Circuit type: 100% discrete class A with 12AX7 tube drive
- Microphone Input: Transformer coupled, Jensen JT-115KE
- Current draw: 235mA
- Frequency response: 20Hz ~ 20KHz +0/-1dB
- Input Impedance: 900
- Mic preamp gain: +60dB
- Maximum gain: +75dB when used with Workhorse*
- Maximum output: +22dBu
- Output impedance: 200
- Output type: 100% discrete Class-A FET
- Common mode rejection (CMRR): >84dB
- Equivalent Input Noise (EIN): -128dBu @ maximum gain
- Dynamic range: >93dB
- Total Harmonic Distortion (THD+N): 0.05%
- Intermodulation distortion (IMD): 0.011%
Instrument Input:
- Omniport input Impedance: 150k, unbalanced*
- Instrument preamp gain: +55dB, unbalanced*
- Equivalent Input Noise (EIN): -95dBu, unbalanced*
- Total Harmonic Distortion (THD+N): 0.1%
Control Panel:
- Meter: 10 segment peak indicator with hold
- Pad: Variable
- Polarity: 180*
- High-pass filter: 250Hz cut-off, -3dB at 150Hz
- Air Control: Presence boost @5kHz
- Phantom power: 48VDC - 10mA (as supplied by 500 frame)
- XLR configuration: AES spec: pin-1 ground, pin-2 (+), pin-3 (-)
- Ground lift (rear panel): Lifts ground on front panel XLR input only
Mechanical:
- Weight: 1.5lbs (0.7Kg)
- Shipping size: 9 x 6.5 x 2 (inches)
- Compliance (API): Yes
- Compliance (WHOS-Doc): Yes
- Warranty: 3 years, transferable
Same Day Music is an authorized dealer of
Radial
products.