Same Day Music is an
authorized Radial dealer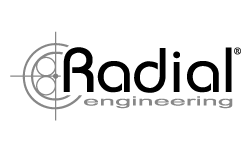 The Radial Reamp JCR is a passive Reamper that allows you to take a prerecorded track and send it back to a guitar or bass amplifier and re-record it. The benefits are tremendous: instead of worrying about the sound of the track, you can focus your attention on getting the best musical performance. Once the session has been captured, you can reamp the track at your own convenience, giving you time to try various amplifiers or introduce effects. Best of all, you can Reamp the track later as the production develops.
The Radial Reamp JCR is the recent version of the original Reamp that was designed and patented by John Cuniberti. It features a 100% passive design with John's original custom wound 'Made in the USA' transformer and circuit. The current Radial version features separate XLR and TRS input connectors, variable output level plus a three-position filter that lets you tame excessive highs, warm up the lows or simply bypass if you want to revert to the original circuit. An on-board mute function has also been added to allow you to shut off the signal going to the amps when making adjustments or moving mics around the studio.
With today's unlimited track capabilities, Reamping is now accessible to everyone. And Reamping is no longer just for guitars It is now common to Reamp bass, keyboards, drums, violin, and tons of other instruments.
Features:
- Lets you re-record tracks through a guitar or bass amp
- Original Reamp circuit designed by John Cuniberti
- Plug and play easy to use passive design
- Improves productivity while expanding creative options
Same Day Music is an authorized dealer of
Radial
products.
- Audio circuit type: Passive, transformer isolated
- Frequency response: 20 Hz ~ 20 kHz (+0dB/-1dB)
- Common mode rejection ratio: -55dB @ 55Hz
- Dynamic range: 140dB
- Noise floor: -115dBu
- Maximum input: +26dBu
- Total harmonic distortion: 0.001% @ 1kHz/0dBu input
- Inter-modulation distortion: 0.0025% @ 1kHz/-10dB input
- Phase deviation: 2-degree @ 100Hz; 0-degree @ 800Hz
- Input impedance: 1800 Ohms
- Output impedance: 4.8k Ohms
- XLR input: Balanced line-level, AES standard (pin-2 hot)
- Ground lift: Disconnects pin-1 at the XLR input
- Mute: Mutes the output at the 1/4": unbalanced out
- Output level: Adjustable
- Hi-cut filter: Hi-cut: -3dB down @ 1kHz
- Low-cut filter Low-cut: -3dB down @ 180Hz
- Polarity: 180-degree polarity reverse at 1/4" output
- Power: Passive, no power required
- Construction: 14 gauge steel chassis & outer shell, baked enamel finish
- Size: 3.3" x 5.0" x 2" (84 x 127 x 48 mm)
- Weight: 1.32 lbs.
- Shipping Size: 4" x 3" x 6.5" ( 102 x 76 x 165 mm)
- Shipping Weight: 1.85 lbs. (840g)
- Warranty: Radial 3-year, transferable
Same Day Music is an authorized dealer of
Radial
products.
Shipping Weights and Dimensions

Shipping Weight: 2 lbs
Shipping Dimensions: 7 x 5 x 3 in