Same Day Music is an
authorized Radial dealer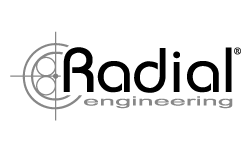 The Tonebone Classic is Radial's most flexible distortion pedal. With 3 drive settings and a variable drive control, you can dial in everything from dirt to drastic and everywhere in between.
The Classic's design is based on vintage overdrive sounds that started in the 1960's and 1970's and today remain some of the most sought after tones. The Classic is exceptionally dynamic and transparent and as such, is extremely adept at retaining your playing style and signature.
Even at high distortion settings, you can turn your guitar level down and the Classic cleans up naturally and without the noise, hum or buzz that is common with most other pedals. At higher settings, every note remains distinct and the natural tone of the instrument shines through.
About Radial Tonebone
Welcome to a world where Tone reigns supreme, where dynamics live and breathe, and where uniqueness and individuality shine through. Welcome to Radial Tonebone.
Over 20 years ago, Radial started developing tube amplifier and tube pedal technology with a single goal in mind: To create devices for professional musicians that would combine exceptional sound quality with straight ahead functionality. In other words, build products that are intuitive and musical. Ultimately, they believe that these 'tools' will have achieved their goal by spurring on the creative process.
Radial products are used by many of the world's most notable professionals. These include Bryan Adams, Bruce Springsteen, Seal, The Rolling Stones, k d lang, Celine Dion, Nine Inch Nails, Journey, I Mother Earth, Randy Travis, The Barenaked Ladies, Tony Levin, Faith Hill, Janet Jackson, The Yellowjackets, Alain Caron, Al Demiola, The California Acoustic Trio, Any Difranco, Will Lee, Def Leppard, Styx, Santana, and so many others.
Radial, True to the Music.
Same Day Music is an authorized dealer of
Radial
products.
- Circuit Type: Hybrid tube / proprietary circuit
- Tube Type: Standard 12AX7 vacuum tube
- Input Impedance: 1meg Ohm at input jack
- Output Impendence: 10K Ohm
Drive Gain:
Used in conjunction with the drive gain control. Drive switch selects the gain range of the overdrive circuit.
- Low: Normal mode (+0dB Nominal)
- Med: Medium distortion (+9dB)
- High: High distortion (+20dB)
Drive: Used in conjunction with the drive gain switch, used to adjust the overall amount of gain to the overdrive circuit.
Mid Boost:
Three position switch to accentuate lead tone and sustain.
- High: +12dB @ 620Hz
- Medium: +4dB @ 390Hz
- Bypass: No boost
- Filter: Allows you to reduce the high frequency content and compensate for overly bright amplifiers.
Top End:
Three position switch sets the overall tonal character to best match the amp and guitar. Brighter amps are normally compensated with darker settings.
- Bright: Boosts +6dB @ 10kHz
- Flat: No boost or cut
- Dark: Cuts -6dB @ 1.8kHz
High & Low EQ:
- Low: +/- 14.5 db @ 100Hz
- Hight: +/- 10 db @ 4.3kHz
- Footswitches: True bypass with green on/off status LED
Heavy-duty high-cycle switch
- LED indicators: Large 3mm OD ultra-bright LEDs
- Construction: 14 gauge steel, baked enamel finish
- Size: 7"w x 4 1/4"d x 2"h (174 x 108 x 51mm)
- Weight: 2.15lb (1kg)
- Power Supply: 15VDC 400mA, center pole positive
Same Day Music is an authorized dealer of
Radial
products.