Same Day Music is an
authorized Red Witch dealer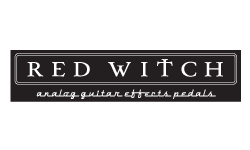 Offering an infinite number of available distortions for any guitar player, the Red Witch Famulus Distortion Pedal features parallel distortion circuits that can be used separately or together to create completely unique tones!
"Alchemy is a bridge between Earth and Heaven, matter and spirit, the solid and the fluid, the visible and the invisible, bringing the horizontal and the vertical together."
- J. Ramsay.
The Famulus is here to aid you in your quest for Tonal Alchemy.
Parallel distortion circuits operate with independent gain controls but with a shared tone and volume. The Alchemy control allows you to use either circuit or any blend of the two.
Circuit A produces a biting, crunchy sound while Circuit B delivers a fat mid range punch. The real magic kicks in when you blend the two and adjust the gains independently - use lots of the biting circuit with low gain and add a smattering of the punchy circuit with high gain, way back in the distance. Or the reverse. Or any combination you like.
Add to all that buckets of boost in the volume control and you have an exciting, state-of-the-art distortion pedal. A multitude of tones, a myriad of flavors, a cornucopia of useable distortions!
Same Day Music is an authorized dealer of
Red Witch
products.