Same Day Music is an
authorized Red Witch dealer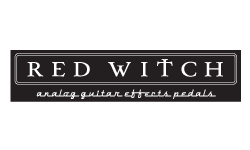 The pure sister offering a gorgeous clean boost. Fair and just, she can deliver the gentlest of volume lifts or when crossed, unleash a colossal amplifier-melting wave of gain. Lily is simply the boost to end all boosts.
The revolutionary new Seven Sisters pedals from Red Witch bring you tone for days. With their rechargeable lithium ion cell and built-in charging circuit, you can get a couple weeks worth of gigs out of a single charge. And no more ground-loop hum from daisy-chained AC power supplies. Best of all, you get that unmistakable Red Witch tone at a very attractive price. The Ruby fuzz pedal offers up a heaping helping of tasty drive at a price that leaves room for seconds. With a wide range of tonal capabilities, Ruby can give you just a little grit, or grinding, full-bore saturation, without sacrificing clarity. Closer to a distortion than an overdrive, Ruby just might be the perfect addition to your pedal board drive arsenal.
Features
- World's first Lithium Ion Cell Pedals
- World's smallest Pedal Board footprint
- Each pedal has its own charging circuit built into the device -- just attach any DC adapter between 9 and 18 volts to it, let it charge over night and the pedal will be good for 1-2 weeks worth of gigging. No more dead 9 volt batteries, no more nasty ground loops from daisy chained power supplies.
- Jack sockets at the top of our proprietary, custom made diecast enclosure.
Same Day Music is an authorized dealer of
Red Witch
products.