Same Day Music is an
authorized Remo dealer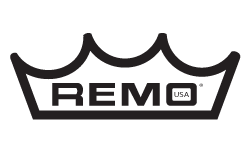 Offering a unique sound, feel, and presence, Remo CS drumheads are a dual-zone head that has a combination of both medium- and heavy-duty drumhead characteristics.
The outer area of the head's playing surface offers midrange tone and sensitivity while the laminated center "dot" adds durability and tonal focus. Now available in 6 finish options plus coated snare drum sizes with a choice of top or bottom dot, CS heads are extremely versatile and effective in a variety of concert, marching, and drumset applications.
About Remo
As the world's drumhead specialist since 1957, Remo has developed an incredibly wide variety of drumheads to fit every drumming application. The end result of the most advanced technologies in existence, Remo heads have been engineered to meet the diverse needs of drumset players in country, jazz, rock, pop, R&B, hip-hop, Latin, and every other style, while offering exceptional performance capabilities for the specialized needs of players in the marching, concert, and world percussion areas as well. With so many types, weights, and sizes available, Remo enables you to select the perfect head for any drum or playing situation.
Same Day Music is an authorized dealer of
Remo
products.