Same Day Music is an
authorized Revolve dealer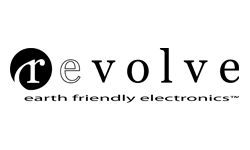 The xeMilo hybrid charger is perfect for travelers, busy parents, outdoor enthusiasts, students, and more. It replaces existing chargers for iPad and other tablet PCs, iPhone, Kindle, Flip, and over 3000 other devices. With the xeMilo, you can recharge from the wall, car, computer, or sun at home or on the go.
Stop searching for an AC plug in the airport, coffee shop, or at school. The xeMilo has a powerful internal battery (2200 mAh) for recharging your devices anytime, anywhere. The xeMilo is small enough to fit in a briefcase, computer bag, or purse and can carry enough power to extend the use time on tablet PCs up to 6 hours, ]even without connecting to AC power. Plus, the xeMini can recharge smartphones, Bluetooth headsets, mp3 players, GPS units, digital cameras, video cameras and more, so a dead battery will never leave you stranded again.
Features
- Recharge your devices from the wall, your car, your computer, or sunlight. NO external AC adapter needed
- Large replaceable internal battery provides emergency power anytime, anywhere
- Replaces existing chargers for over 3000 devices, including iPad, Playbook, iPhone, iPod, Blackberry, Droid, EVO, Flip and more
- Compact and easy to carry
- Charges two devices at a time
One xeMini charge gives you:
- iPad: ~6 hrs use time
- Playbook: ~6 hrs use time
- iPhone: ~13 hrs talk time
- iPod Touch: ~120 hrs play time
- TomTom One: ~18 hrs use time
- Kindle (w/3G) : ~30 days use time
all times are approximate.
Same Day Music is an authorized dealer of
Revolve
products.