Same Day Music is an
authorized Revolve dealer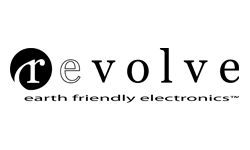 The revolutionary hybrid charging system from Revolve, the xeMini Plus, is the ultimate accessory for all your rechargeable equipment: mobile phones, MP3 players, digital cameras, navigation systems and more. Perfect for travelers, busy parents, outdoor enthusiasts, and students, it replaces existing chargers for over 3000 devices and includes everything you need to charge from the wall, car, computer, or sun.
Features:
- Everything you need to charge from the wall, your car, your computer, or sunlight
- NO external AC adapter needed
- Large replaceable internal battery provides emergency power anytime, anywhere.
- Replaces existing chargers for over 3000 devices: iPhone, iPod, Blackberry, Droid, EVO, Flip and more
- Portable, easily fits in pocket or purse
- Charges two devices at a time
- Includes xePico Charger and cables
Stop searching for an AC plug in the airport, coffee shop, or at school! The xeMini has the largest internal battery of any product in its class (2200 mAh) for recharging your devices anytime, anywhere. The xeMini is small enough to fit in a pocket or purse and can carry enough power to fully recharge most smart phones twice without even connecting to AC power. Plus, the xeMini can recharge many digital cameras and video cameras on the go as well, so a dead battery will never cause you to miss the shot again.
Smart Technology, Innovative Materials
WPC - The plastic parts in Revolve products are made from exclusive, proprietary WPC (wood-plastic composite) material. Starting with bamboo sawdust waste, a byproduct from the manufacturing of other bamboo products, and then blended it with recycled ABS plastic. The resulting WPC material is stronger, lighter, and allows Revolve to use less energy to manufacture parts. The faint smell of wood will fade over time - so enjoy it while it lasts!
Glass Encapsulated Mono-Crystalline - The high-efficiency photo voltaic silicon panels used in the xeMini is glass encapsulated too last many years longer those found in competitive products. With some of the most powerful panels of any products their class, Revolve is serious about empowering you to choose your power source!
Advanced Lithium Polymer Battery - The lithium polymer battery technology means your Revolve battery will last twice as long as most rechargeable batteries. Plus, a dead battery won't turn your Revolve Electronics product into waste - this battery is replaceable!
Smart Electronics Design - The circuit has been designed to have maximum compatibility with the widest range of devices possible. There is no other charger on the planet that will work with iPhone, iPod, Flip, Droid, Blackberry, and all 5V DC USB standard devices. Plus, its powerful output ensures your devices will charge fast.
Charge and Sync Simultaneously - The data pass-through feature allows you to charge both your Revolve charger and other devices like iPod, iPhone, and smart phones, from your computer even while syncing. No other charger on the market offers this feature.
Same Day Music is an authorized dealer of
Revolve
products.
- AC Input: 100-240V AC 50/60 Hz 100mA
- USB Input: 5V DC 0.5-2 A
- USB Output: 5V DC 1.2A (max)
- Battery: 2200mAh Lithium Ion
- PV Panel: 5V / .8-watt (high quality)
- Dimensions: 3.5 x 4.125 x 0.69 inches
Revolve xeMini Approximate Charge Times- iPhone - 6.5 hrs talk time
- Blackberry - 8 hrs talk time
- TomTom one(3G) - 9 hrs nav. time
- Garmin Nuvi 200 - 7.5 hrs nav. time
- iPod Nano - 75 hrs play time
- iPod Touch - 59 hrs play time
Same Day Music is an authorized dealer of
Revolve
products.