Same Day Music is an
authorized Rhythm Tech dealer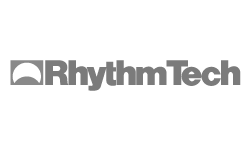 Representing a major advancement in the art and science of percussion, the Rhythm Tech Pro Tambourine is destined to become the professional standard for sound, feel, and performance.
Features
- Made of advanced synthetic materials
- Computer assisted design and manufacturing methods
- Completely redesigned and ergonomic handle
- More efficient jingle placement
- Improved balance
- Resilient over-molded GLS playing edge
- Includes case
The Handle
Completely redesigned from the ground up, the handle is a marvel of ergonomics. Rhythm Tech used two design firms that specialize in designing handles and grips for sporting goods, medical devices and tools to develop the most comfortable and, easy-to-hold handle ever offered for a tambourine. Together they determined the shape, width, length and circumference of the design using over 200 measurement points of eight different human hand sizes and proportions. The handle not only feels great, but also controls the instrument better so that less effort is required to play.
The Edge
The Pro features an overmolded soft playing edge. The material is molded onto both sides of the frame along with the handle to form a seamless permanent playing surface. You'll notice that there are no pin holes coming through the edge. This smooth continuous edge is achieved by over-molding the soft surface after the tambourine is assembled. This creates a playing surface that provides unparalleled comfort for high volume situations while allowing more subtle control for softer ones. The edge also makes finger rolls easier than ever to execute.
Jingles
Another innovation, Stainless Steel jingles. Stainless Steel is a harder more durable material that has a truer fundamental pitch. That means less overtones and longer sustain. These jingles have more volume to really cut through.
The Pro is also available with traditional Brass Jingles. Brass has a deeper, chunkier sound that sounds great for recording.
Balance Point
Rhythm Tech adjusted the center of gravity of the instrument ever so slightly so that it would feel lighter and more responsive. The actual shape was modified to move the handle closer in towards the center. In addition the profile of the new handle brings your fingers to a point just past the geometric center. This allows you to drive the instrument with less moment of force. That's what makes it feel more responsive.
And finally they completely changed the layout of the jingles. Now they are grouped on the arc to react faster so that you get more sound with less effort.
Case
The Pro is packaged in it's own tough Poly Propylene case. The Case was designed to protect the Pro in travel situations. Like bouncing around a trap case or Trick Bag filled with all your other essentials. Inside there's a compartment that will hold an Eggz Shaker, or other small easily lost accessories.
Same Day Music is an authorized dealer of
Rhythm Tech
products.